Mary Finnigan's 3 Tuns Speech on 6th December 2001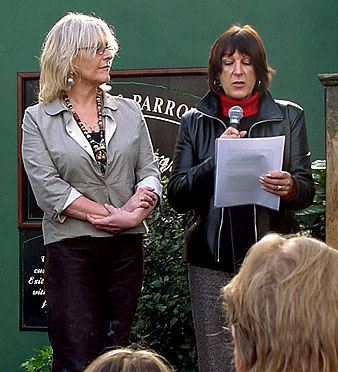 (Photograph courtesy of Total Blam Blam)

Hello everyone. We're here to celebrate the achievements of David Bowie - one of Beckenham's most illustrious former residents - together with the people who joined him at the 3 Tuns to create a weird and wonderful phenomenon called the Beckenham Arts Lab. It happened in 1969 - which was an appropriate year for a summer of love. It was the year when hippie culture was at its peak, the year of the first moon landing, the year John Lennon gave back his MBE and the year when HRH Charles became the Prince of Wales. It was also the year when Mayor Holbrook joined the Labour Party. 1969 was a year of high achievement and high ideals and the year when the Arts Lab movement spread out across the country from its nucleus in Drury Lane.

The Beckenham Arts Lab was part of that movement and it grew out of its origins as a Folk Club because a lot of people wanted this to happen. David Bowie, Christina, her then husband Barry and I started the ball rolling, but it was the enthusiasm of the people who gathered around us that turned it into something more than weekend entertainment.

So, what was that "something more?" I guess the best way to describe it is an experimental space where people could test their creative impulses. There was very little structure and Arts Lab events were never very well organised. But within that free zone extraordinary things happened - and some of them are still going strong. The psychedelic happenings of the 1960s and the Arts Lab movement were the birthplaces of multi-media. Music, video, light shows, drama, mime, poetry, puppetry and dance all put in an appearance in a glorious creative tapestry - right here in what was in those days an unremarkable high street pub.

We called the Beckenham Arts Lab 'Growth' - and that really did chime with the times. We grew our hair, we grew our talents - and we grew some interesting pot plants. Everyone who took part was eager to grow - out of the straightjacket of suburban life and into self-awareness. Young people blessed with a radical outlook in the 1960s were pioneers because they made it clear beyond doubt that they did not want grow into clones of their parents. They wanted to explore the world, they wanted to live very dangerously - and they wanted to find meaning. Most of us take these aspirations for granted today.

But everyone I knew in those days wanted to have fun and that was the reason why we adored Sunday nights at the 3 Tuns. Performers from all over London and the south east turned into iron filings drawn irresistibly to the magnet in Beckenham High Street. Some names you might recognise who played here include Peter Frampton, Mick Ronson, Tony Visconti, Dave Cousins and Strawbs, Lionel Bart - and Steve Harley who's paying a return visit today - hooray! And there were many less famous, but equally talented musicians - Roger Wotton and Comus, George Underwood, Mox, Hutch, Robert Stephens, Amory Kane, Keith Christmas and Bridget St. John.

And there was a chap called David Bowie, who in those days was less famous than some of the names I've just mentioned. But here, his career started to take off. This pub was the launch pad for 'Space Oddity' - his first hit song and most of the numbers on his second album were first performed at the 3 Tuns... 'Janine' for example and 'The Wild Eyed Boy From Freecloud' which he wrote for my son Richard.

David Bowie was the energy and the inspiration behind the success of the Beckenham Arts Lab. We touched the lives of the whole community because we took our enthusiasm into the streets and into the parks. We did a series of concerts and talks at the Bromley Arts Centre and we threw a Free Festival that crowned our summer of love - and made a profit. In 1969 we believed we could change the world and maybe in some ways - we did.

Most of us were moved by what happened during the time of the Beckenham Arts Lab - it shaped my life and probably a lot of other people's too. ...other people... I have to confess that my memory's a bit blurred - but I do recall the master puppeteer Brian Moore, Nick Godwin who produced the weekly newsletter with me, Chas and Liz Lippeatt who did a bit of everything, a certain beautiful young woman called Mary Angela Barnett and the late, great Spud Murphy. And there was Jamie Plummer, Dave Walkling, Susie Cartwright, Nita Bowes, Nick Jennings and Dave Bebbington. These are the names I remember. There are many more I've forgotten, but I can still see their faces. It's totally brilliant that some of those original Arts Lab people are here today.

Some of you may be wondering why David Bowie came to live in Beckenham in the first place. Christina knows about this - so - how did it happen?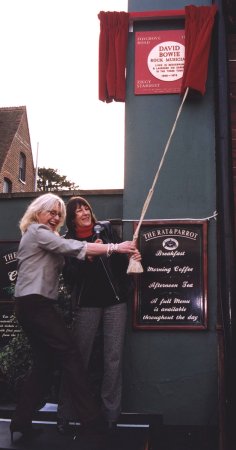 (Photograph courtesy of Eddie Harris)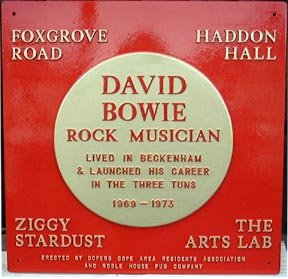 (Photograph courtesy of Cliff Watkins)
CLICK HERE
TO CLOSE WINDOW