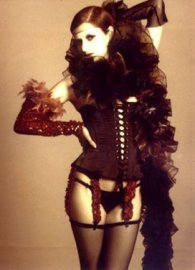 Angel


Aladdin Sane - not quite Ziggy in America




Aladdin Sane was a new being that appeared after Ziggy had been torn to pieces by his fans in Europe.

Aladdin Sane was in a sense Ziggy in America only instead of the brave flambouncy there was a philosopher, a tinker combining life, history, fashion, war, and of course the apocalypse.

Aladdin was almost the thinking side of Ziggy. Aladdin seemed to pity the Americans because they had no idea where they were.

As Aladdin David created his own visions of America in its own confusing apocalypse of parties and uncertainty, sex, hookers, drugs, a whirlwind of confusion about the world ending, and this one man soaking it all up like a sponge. Taking all of it in, and thinking it out for everyone else, and in doing such, became a supposed Lad Insane.

However, when you look at it, Aladdin appears to be the only one noticing all that happens to everyone else and all that is happening to the world. Aladdin Sane only tries to make it.

"Uh-h-h-uh-h-uh you'll make it."


Angel.
9th February 2003.