Ardent Désir
Serious Moonlight DVD Review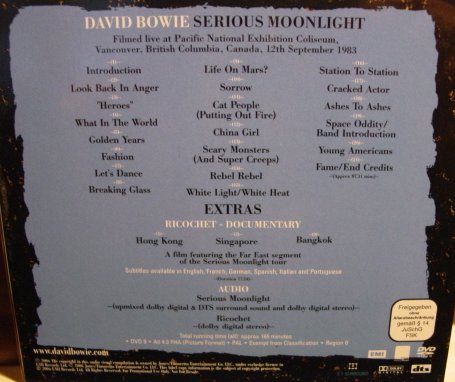 What I can say what you want to hear is that it looks and sounds absolutely fantastic.

The Audio has gained in clarity and sounds far more spacious than before, adding to the power it exudes, where it used to sound way too cropped.

The Video looks fantastic, better than it ever did.

The footage has clearly been well cleaned and looks a lot sharper.

Then onto the extra's:


Ricochet and the Photo Gallery.

The Photo Gallery has a wonderful set of pictures, many taken by Denis O'Regan. They are well selected and everything plays automatically, accompanied by the live (single) version of 'Modern Love'.


Ricochet Documentary.

Whilst this has not been cleaned up like the Main Feature, it looks very good. The picture is slightly more reddish, and slightly darker than my original VHS tape.

Since it's 17 minutes longer, I was tempted to compare the footage. So I installed an extra TV in the living room and got to work:

What I found was this extra footage:


Hong Kong:

- Bowie and Coco in a hotel room, and in the elevator.
- A business meeting with what I take to be the Tour manager, with Bowie asking "Are we gonna break even?" and ending the clip with "I'm gonna have to buy the T-Shirts!"
- Fashion Live in concert, audio only: footage of Bowie driving around Hong Kong at night, footage of the lights in the city.
- CHINA GIRL - the full song , live in concert.


Singapore:

- More of a backstage interview, lots of hilarity from the band.


Bangkok:

- Footage of Earl Slick at passport control, having a spot of trouble.
- Footage of Bangkok from the water, as evening falls, we see Bowie in a motorboat cruising along the rivers, Bowie eating noodles and sleeping on the boat.
- FAME - This time we get the full version of the song, not edited like it was on the VHS.


I'm happy with this :)


By Ardent Désir.
February 24th 2006.