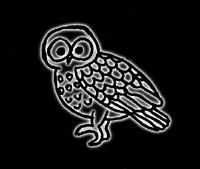 Black Owl


Let's Laugh And Dance The Blues




Don't leave this room and don't turn off your computer. This story is true and you aren't in the twilight zone.

Even a clown is allowed to look nice once a year. That's why I decided to go to my hairdresser 'cause my hair were long. I couldn't imagine to go to Paris for a Bowie concert like that.

I don't know why I have the feeling to sound as a Barbie now... nevermind.

I keep on telling you what happened to me in September 2002. I were sitting to wait my turn when my hairdresser asked me why I was there. I don't know why she asked this silly question. No one goes to see her hairdresser only to have a dinner...

I explained to her my plans to travel to Paris for a concert. Please, note that my hairdresser is young and very modern but her English is totally nonexistent... very important note.

This is the "Shakespearian" dialogue (a new Hamlet version?)

The Hairdresser: "Oh! a concert? Who is the singer?"

The Clown: "David Bowie." (pronounced with a French accent of course).

The Hairdresser: "Oh yes! I know this guy!"

The Clown: "Really???"

The Hairdresser: "Yes... I remember. He is the one who sang hmmmm 'China Grill' isn't it?"


Black Owl.
4th March 2003.