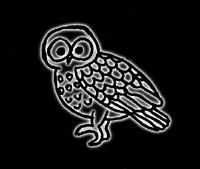 Black Owl


LOOKING FOR WATER






I wonder sometimes if David Bowie isn't ghost.

He always appears where you don't expect him.

I used to buy old things in a second hand French shop.

I bought a lovely pick'up from the 40's, maybe older.

You must give a crankstart to listen to the music. It's a very small pick up and you can bring it everywhere 'cause it's in a small black box made from leather.

A very good friend of mine came to visit me from Holland, a Bowie fan too. She fell in love with this pick up and wanted to buy one too.

We went to the second hand shop together and we didn't find the same pick up but a very interesting one from the 50's.

You don't need a crank of course 'cause it works by electricity. It's a very rare Swiss machine and it was very cheap too. We decided not to buy it before trying it.

We asked the seller to show us how it works. Nothing would of made him think we were Bowie fans. He left us alone for a while and when he came back he had a vinyl in his hands to try the pick up. Suddenly we heard... "Shake it, shake it - what's my line".

I watched my friend and she watched me too. We laughted immediatly and the seller understood nothing.

Finally, the pick up worked well and my friend had it at home in Holland.

Sometimes we speak about it and we are still amazed to have such coincidences in our lives.

My town isn't famous and I can say even if it's a pleasant place, we had really few chances to find a Bowie clue there.

Finally, you can find water in a desert.


Black Owl.
27th July 2003.