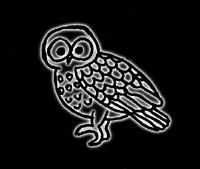 Black Owl


LETTER 1

Before The Show: This Is The Trip






Dear Black Owl,

I wrote to you this letter from Paris where I have been (24th Sept) to see Bowie's gig.

I must sound like a parrot if I tell you it was great. But let me to explain to you what happened.

I took the train in Perpignan at 6.50 in the morning and there was a strike. I had to wait a long time before leaving the station. This trouble was nothing if I compare to what happened later.

We had been travelling for 5 hours and when I thought I had arrived... a man said to the microphone:

"Ladies and gentlemen, we regret to announce we can't arrive in Paris at the right time. There is a dangerous package in the station. We will stop the train at the station when we are sure you could be safe" I tried to avoid to think about it. No there is no bomb I thought. Like you know that's always easy not to think for a clown. But this time... it was different. The train arrived at 2.00 pm instead of midday but I was safe in this terrible town.

My friend Bettina, was waiting for me at the hotel with a couple of very kind Dutch who drove her from Berlin to Paris. For the first time of my life I had to take the Metro to join her there. Station to station? But I was scared 'cause I am very bad in directions. I found a map and finally I managed.

Like you know, Owlie I am not a citizen. I can hear you laughing...

I entered in the Metro, it was crowded. I had time to watch people all around. They look sad and livid really. They hide their smile in their samsonite. A couple of musicians jumped into the same Metro. The man had a violon and the woman had a tambourine. They played and danced like Tziganes in the Metro. It was incredible. I had the feeling to live a dream and Dali was "alive". They sang very old songs like this Spanish and gorgious one "besame mucho". The travellers were very angry and they kept their bag under their legs. I can't understand why. Can you? Have you ever had a dream or two? I was the only one who gave 1 euro. I survived to a bomb no? I don't judge people, don't think that but I wonder really where all these cavemen go?...


Black Owl.
October 2002.