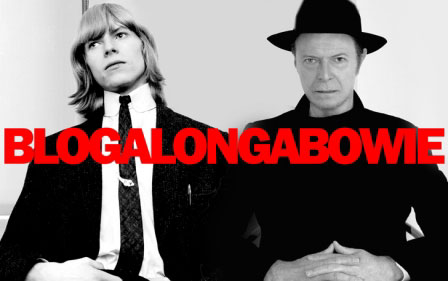 David Bowie in the '60s:
Waiting For The Man

Welcome to the first 'proper' blogalongabowie entry - albeit over a week late, after this post fell into a pocket dimension. Let's start at the beginning - a very good place to start.
Any retrospective of David Bowie's recordings would not be complete without taking into consideration his early, youthful work, and yet it is impossible to give a truly objective review of his freshman efforts - the forensic Bowieologist will scan them for nascent traces of themes and influences that become prevalent in his later work, or else inevitably find these recordings quaint, charming yet undeniably overshadowed by his more confident and fully-realised work around the corner.
His pre-Space Oddity catalogue consists of nine singles and one album on assorted labels, and assorted sketchy demos scattered across various bootlegs, so it's very easy to consider it apocrypha rather than part of the 'canon' - not least due to the fact you won't find these songs nestling side by side with music of an RCA vintage of box sets or compilations, as unlike his recordings from 1969 onwards, Bowie does not own the master recordings.
I suppose what is most striking about these recordings is that they are David Bowie before he became David Bowie. Until the rise of the Monkees precipitated a change of name, he was plain old David Robert Jones of Bromley, a fame hungry chancer whose ambition at this point exceeded his vision - he had yet to start pieceing together the disparate influences that would make him his own brand and capture the imagination of a generation of escapism-hungry adolescents, let alone be able to set the agenda for the changing musical trends of the rock landscape.
David Bowie was Jones' first manufactured persona. Before then, he was one of many good-looking young suburban Modernists, the generation who "never had it so good", excited by the opportunities the socially mobile, and flashy, consumerist world of Londoncentric '60s Britpop offered a daydreamer keen to fashion a future more exciting than the prescribed career path of desk jobs mapped out by secondary modern careers advisors.
Bowie's latterday reputation rests on being not only a gimlet-eyed Magpie but also an innovator in terms of sound /and/ vision - this wasn't a gift that sprang forth, fully formed, overnight but the result of spending the best part of a decade in musical hand-me-downs - his early singles flirt with Georgie Fame styled R&B (Good Morning Girl, Baby Loves That Way), freakbeat (You've Got A Habit Of Leaving), mod (The London Boys, Can't Help Thinking About Me), music hall-accented chanson (Little Bombardier, Uncle Arthur) and twee novelty numbers (Love You Till Tuesday, The Laughing Gnome), and folk music (Conversation Piece, An Occasional Dream)...
In this respect David Bowie was fortunate to be cutting his pre-NHS teeth at a time when the music world was flush enough to be able to waste cash on flop singles - in the current climate, his nascent career would have stiffed after his third unsuccessful single.
It was with a one-album deal with Deram Records, classical record label Decca's "youth" imprint, that Bowie made his first stumblings towards something resembling his own personal style. True enough, it took its cues from others - most notably Anthony Newley. Bowie's deliberately mannered, provincial vocal style was largely based on fellow Londoner Anthony Newley, the British singer/actor whose eclectic and uncompromising career path - flirting with novelty songs, arch ballads, pioneering postmodern TV comedy (the Pythonesque Strange World of Gurney Slade) and self-indulgent vanity projects - could almost be seen as a template Bowie would revise as a multimedia rock star. A less acknowledged (least of all by Bowie himself) influence was Alan Klein, whose Well At Least It's British pre-empts every beat of Bowie's first album, being unashamedly parochial and uncategorisable. Compare Klein's single Three Coins In The Sewer to Bowie's mordantly sardonic homage to Tony Hancock, The Gospel According To Tony Day, the B-side of The Laughing Gnome.
Very English, completely at odds with mainstream developments in rock (at a time when the Beatles were pushing the envelope with Revolver and applying the finishing touches to Sgt. Pepper) and with more than a trace of old-fashioned variety. Bowie modelled himself, at his showbiz-enamoured manager Ken Pitt's instigation, as somewhere between a crooner, a vaudevillian, wax-moustached Edwardian bandleader and a spinner of deceptively subversive nursery rhymes about cross-dressing soldiers, suspected paedophiles, child-murderers, cannibalism and, er, gnomes.
Did I say completely at odds? I'm being disingenuous here - if you skim through a cross section of British psychedelic pop, much of it was fashioned along similarly queasily nostalgic lines. The Kinks were rifling through the iconography of Victoriana like a demented charity shopper, the Beatles' Pepperland was not so much a world of let it all hang out free love as picturebook caricatures of meter maids, lonely hearts bands, yellow submarines and paperback writers. Elsewhere in Abbey Road, Pink Floyd - under the tutelage of Bowie's hero, Syd Barrett, hanging in his infant air - were creating a teatime terror world of smalltown knicker-pickers, the Alice-like Emily and her games for May, scarecrows and, er, gnomes, haunted by chapters from the I Ching and Wind In The Willows.
In fact, if anything, David Bowie's first album probably sounds more unearthly NOW than it did in 1967. It's often dismissed as being corny and twee and childish, but it's deceptively dark and if you peel away the waltz time oompah arrangements and saccharine strings it's surprising how many of its themes would resurface on the oppressively nihilistic The Man Who Sold The World three years later, as would the camp and theatricality and Goon Show voices.
One thing that's as true of Bowie now as it was then, is that no sooner was this album being pressed and finding its way, unloved, into record racks, Bowie had begun broadening his palette by discovering fringe acts such as The Fugs, The Mothers of Invention and The Velvet Underground - in fact David Bowie was the first person in the UK to own the first Velvets album, when his manager returned from a trip to New York with an acetate of the then-unreleased album.
Very soon Bowie was shoehorning Zappa's Help I'm A Rock into his live band's repertoire, where it sat awkwardly among covers of Holst's Mars, The Bringer of War (in tribute to Quatermass, the teenage Bowie's favourite TV series) and Chim Chim Cheree from Mary Poppins, and tried to transform his band The Riot Squad into a British version of The Mothers, as well as taking them into the studio to record Waiting For The Man in a bizarre, jaunty harmonica-led stomp and twisting Venus In Furs into an X-rated song of S&M in the toyroom, Little Sadie.
He'd also discovered Scott Walker's English-language renditions of Jacques Brel's songs of pimps, hookers and melodramatic existential alienation - Walker and Brel soon supplanted Newley as his role model du jour, and of course Lou Reed would have an influence on Bowie's direction at the turn of the decade and beyond in a way that's impossible to exaggerate.
Although the Deram album did not make Bowie a household name - although he had keen supporters in the music press in the form of Jonathan King, Annie Nightingale and Penny Valentine - it did find a sympathetic ear in the form of dance and mime artist Lindsay Kemp, a flamboyant, quixotic figure who trained Bowie in mime, thus bringing out Bowie's stagecraft and physicality, as well as giving Bowie his first taste of a more decadent, sexually experimental lifestyle, bedding both Kemp and his seamstress Natasha Kornilof, who created costumes for Bowie for his 1978 tour and the Ashes To Ashes video. Kemp was not Bowie's first experience of queer culture - but certainly was a gateway in terms of Bowie learning to create stage personae to explore different facets of his personality by donning masks, Kemp being well versed in commedia dell'arte and casting Bowie as Cloud in his update of the Pierrot love triangle (set to Bowie's songs, of course).
Unimpressed Decca selection committee members let Bowie's contract whither on the vine as they declined numerous attempts at chart-friendly material in the latter half of 1967 - Karma Man, a lush song inspired by Bowie's burgeoning fascination with Buddhism, and two songs (Let Me Sleep Beside You and In The Heat Of The Morning) that were more explicitly sensual than anything he had recorded hitherto - but these too saw the beginning of a new chapter as they were produced by one Tony Visconti, a New Yorker who had joined Deram's roster and shared Bowie's interest in the counterculture. When Visconti followed most of Deram's creative team to David Katz's production company, Straight Ahead, becoming Marc Bolan's Phil Spector figure, he would usher Bowie into the 1970s before becoming dispirited at Bowie's lack of motivation in comparison to Bolan's naked ambition. (We'll return to Bowie and Bolan in a later blog).
For Bowie, the 1960s was a decade of fumblings and stumblings - trying desperately to find his own creative voice and style in a decade where it felt like all his peers were outrunning him. Not only Marc Bolan, but also other musician friends, such as Steve Marriott, John Paul Jones, and Deram labelmate Cat Stevens.
This sense of Bowie as an also-ran, with his face planted against the window of fame, seeing others succeed while he struggled in vain to find his niche, seeps through a lot of his songs of this era. A frequent metaphor of his Deram songs is that of old-school Hollywood stardom - in the tellingly-titled When I Live My Dream, the Billy Liar narrator-hero desperately pleads with the object of his affection "tell them that I've got a dream and tell them you're the starring role", and in Maid Of Bond Street Bowie puts himself in the shoes of a would-be It Girl, desperately chasing opportunity across Swinging London, her dreams and ambitions treated by cynical moguls as "scraps on the cutting room." - when he spits "She really wants to be a star herself", it's clear the third person narrative is a case of pure projection.
His last single for Pye in 1966, a cynical stab at a Swinging London anthem titled I Dig Everything is narrated from the perspective of a mod wannabe sitting in his bedsit, eating cold baked beans, making friends with the speaking clock and watching the Carnaby Street aristocracy cavort in the streets below.
Elsewhere on the Deram album, smuggled in amongst such pastoral fare as Come And Buy My Toys and Sell Me A Coat, Join The Gang is a particularly cutting satire of the psychedelic scene, scathing and bitter about all of its inhabitants, and ending with Bowie blowing a raspberry. Five years later, he would put all this to good use by turning frustration into ambition when he created the self-made star Ziggy Stardust, who would sing "I could do with the money - I'm so wiped out with things as they are - I could fall asleep at night as a rock and roll star".
That was all to come, but a few more pieces of the jigsaw were yet to fall into place. It would take the space race and a chance meeting with a nouveau-riche American student dropout for things to start coming together...
Blogalongabowie
19th January 2014.
CLICK HERE
TO CLOSE WINDOW