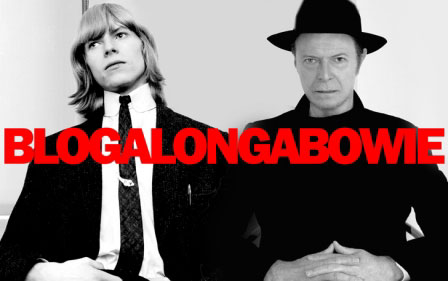 David Bowie - The Mercury Years:
A Semi Acoustic Love Affair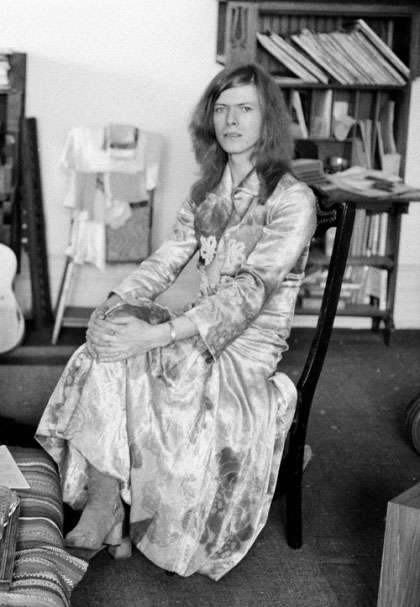 A Beckenham housewife in her natural habitat, 1970.
After five years of struggle, David Bowie finally found himself with a hit on his hands. The song, Space Oddity, had all kinds of relevance to Bowie's then-present state of affairs and the direction he would take over the years, representing a kind of rough sketch of the themes he would expand upon over time, as well as being a kind of shorthand for how many saw Bowie.
Like the anti-hero Major Tom, Bowie would often be defined in the media - otherworldly, unknowable, detached and remote. Back on Ground Control, even as Major Tom takes his first faltering steps into the cosmos, the media are falling over themselves with more earthbound concerns as they fashion the intrepid explorer into the latest flavour of the month posterboy - the single line "The papers want to know whose shirts you wear" succinctly encapsulates the superficial, reductive power of the media. Society's all-consuming desire for a saviour, a hero of the hour, is frequently seen as an insatiable, frequently destructive, need in the Bowie ouvre, from "Big Brother" to "Somebody Up There Likes Me" to the tale of leper messiah and the drunken protagonist of "Joe The Lion". In essence, the hippy astronaut gets a glimpse of late twentieth century western world, and turns his back on the whole shebang, opting for strung-out oblivion amongst the stars, in much the same way that the leaders of the flower power revolution would retreat into either pastoral escapism ("getting back to the garden" as Joni Mitchell phrased it in her anthem Woodstock - which, presciently, spoke of stardust!) or else floating in space "in a most peculiar way" - suggestive more of Syd Barrett and other end of the decade acid casualties in what a later Bowie song would term "the mindwarp pavilion" - and observes the homeworld helplessly and apathetically ("Planet Earth is blue, and there's nothing I can do") like the enigmatic starchild from the closing moments of Stanley Kubrick's 2001.
You see, in 1969 David Bowie's latest identity was that of an earnest hippy, with his twelve string guitar, grandad shirt and Tyrannosaurus Rex-era Marc Bolan bubble perm, but in truth David Bowie was always too cynical and selfishly individualistic to cut the mustard as a genuine hippy, and the underlying concerns of Space Oddity betray this. Space Oddity is a pessimistic look at where the culture sat at the crossroads of the decade, something that is easy to lose beneath its hazy, acoustic, chocolate box arrangement and has been deadened by familiarity over time as the song even mums and dads and grandparents of Ziggy's children found inoffensively twee and as the by now predictable, obligatory opening gambit of any David Bowie greatest hits collection.
On a personal level, Space Oddity also - in hindsight - parallels Bowie's career path at the turn of the decade. Like Major Tom, he was a relative nobody thrust into the limelight due to being in the right place at the right time, while the single itself had a slow upward trajectory as pronounced as Apollo 9's moonbound ascent and a fade back into the distance as sure as the astronauts' once the Life magazine cover profiles died down soon after splashdown. David Bowie found himself singularly unprepared for this slow burner top five hit, with a ragbag of songs and no clear mission statement, and just as Major Tom turned his back on celebrity, he retreated to the womb of his Beckenham flat in the bowels of the gothic pile Haddon Hall, with no particular game plan.
All in all, the 1969/1970 era David Bowie, wedded to Mercury Records for a two album deal, was a very different creature to the manchild who had fashioned his first album together for Deram two years previously, and his records during this period reveal as much. Deram-era Bowie was a young man, idealistic yet opportunistic - "pulling the hair from my eyes... vicious but ready to learn" as the autobiographical The Buddha of Suburbia phrased it in 1993 - and intense biographers will search in vain for signs of any hints as to his psyche in those ragged and naive freshman efforts.
Come the beginning of 1970, a lot had happened. He'd slowly but surely extracted himself from his mother's suburban terrace in Bromley, firstly by becoming a live-in lover with Mary Finnigan, a journalist who instigated his foray into parochial hippydom projects such as the Arts Lab at the Three Tuns and the Beckenham Free Festival. By that time, he had met his future wife Angela Barnett, through a contact at Mercury Records - Calvin Mark Lee, a gay Asian with whom Bowie had a brief bisexual tryst and who donated the Vasereli artwork that inspired his second album's cover art - and his father Haywood, who had been a supportive presence during Bowie's thus-far failed career, passed away weeks before Bowie scored his first hit single. His troubled stepbrother Terry, a paranoid schizophrenic and a towering hero-worship figure during Bowie's youth, alternated between spells in the local mental hospital and the family home... and the ghost of his love affair with Hermione Farthingale was still a barely healed wound. There was also the growing rift between himself and his manager Ken Pitt, who had thus far modelled Bowie's rise to stardom along more traditional lines, to contend with.
Add to this melee of personal relationships and his ill-adjustment to the anticipointment of becoming a one-hit wonder, his fascination with esoterica such as Lovecraftian science fiction, formative flirtations with Crowley-era arcana, and Terry's perilous mental health triggering a morbid obsession with fractured personalities, figurative angels and demons, supplanting his fervour for the Buddhist teachings of his one-time mentor Chime Rinpoche.
Little wonder that if one delves into the fractured album we now call Space Oddity and its more unhinged successor The Man Who Sold The World, we can detect that this particular stage of Bowie's career and creative mindset was a confusing world, pregnant with anticipation of the developments explored during the following decade, but as yet lacking a key focus to unify the disparate themes.
Bowie was by far from on the brink, but both albums suggest that being David Bowie, 1969/1970, was an awkward, uncomfortable place to be - the drive to become somebody significant was there, and more than before he reveals more than perhaps he intended of his headspace, but without a true North upon which to hitch his star, he was creatively floundering, but no less full of ideas he could reconfigure once he had established a purpose and a vision for future endeavours.
The Space Oddity album is a ragbag of influences, from Phil Spector melodramatics coupled with messianic prophecies on The Wild Eyed Boy From Freecloud, to essays in lost love on the two odes to the recently-departed Hermione Farthingale (who also haunts the Dali nightmare of class-based anxiety of Unwashed And Somewhat Slightly Dazed) to the tonally bizarre mixture of Bo Diddley rhythms and trie social commentary of God Knows I'm Good. Even the most outwardly joyful track, Janine, has a wierd disconnect between id and ego which anticipates the schizophrenia to come. The cornerstone of the album, Cygnet Committee, is a motherlode of Future Bowie cornerstones, as it reconstitutes Bowie's disillusionment with the apathetic hippy culture he'd encountered in the setting of an apocalyptic science fiction wilderness with shades of Wagner. (Don't forget the similarities and differences between Cygnet Committte and Lover To The Dawn, see previous blogs).
Fast forward to The Man Who Sold The World, the wierdest "wedding album" this side of Lou Reed's The Blue Mask. By all accounts, Bowie and Angie's honeymoon period was in full swing, with his bandmates and producer struggling to tempt him downstairs to script lyrics to the loose jams Visconti and Ronson hammered into place, and the end results were startling. By accident or design, Bowie and his cohorts fashioned together one of the heaviest albums of the 1970s - no mean feat considering its bedfellows were Black Sabbath and Deep Purple - and the lyric sleeve itself was laden with enough dark, troubling observations to fuel an omnibus of Lovecraftian anthologies.
It gets off to a flying start with The Width Of A Circle, a relentless piece of eight minutes playing time, which charts the protagonists' betrayal of the teachings of self-ascribed prophets, seers and sages to opt for his own dark journey of self-discovery, taking in spiritual rape with intensely homoerotic imagery ("He swallowed his pride and puckered his lips"), Nietzchean glimpses into the abyss ("The monster was me"), a disavowal of Bowie's hitherto transcendetal leanings ("He quipped Kahlil Gibran") while offering a dark shadow of the Deram album's fairytale whimsey with the manipulation of the Teddy Bear's Picnic - "You'll never go down to the Gods again".
Subverted fairytales also haunt After All, which owes a lot to the aforementioned Gibran's The Prophet, and All The Madmen, a homage to RD Laing's anti-psychiatry which invokes in its opening bars to disturbing effect The Beatles' Fool On The Hill ("Day after day..."). Elsewhere, it is suggested that Bowie's heartbreak over Hermione has mutated into full-on misogyny on a scale not seen again until Tin Machine (She Shook Me Cold), the BBC Light Programme fair of 1967's We Are Hungry Men gets a Ballardian revision on the pre-Internet horror show Saviour Machine, Bowie crossbreeds Wilfred Owen's wartime poem Chance Meeting with the disqueting The Psychoed by Edward Mears on the title song (the only song to be covered by Nirvana, Midge Ure and Lulu!), offers up an insight into the deranged mind of a Vietnam war gunman gone native (Running Gun Blues), while light relief is found on Black Country Rock, a delightful piece of funky, shuffling whimsy clearly designed as a T. Rex piss-take, complete with a Marc Bolan-esque shrill keening.
The sister song to Black Country Rock, Holy Holy, effectively mocked T. Rex's early singles, just as their producer, Tony Visconti, left the Bowie camp to devote his energies to Marc Bolan's more focused attempts at the big time. Holy Holy replicates the unconventional stylings of late period Tyrannosaurus Rex, but the overall effect is slow and sludgly, so it's no surprise that this one recording that Bowie has allowed to languish in the vaults, preferring the sonic attack of the Ziggy-era remake to stand as the canonical version on reissues.
The only noteworthy non-album b-side from this period is Conversation Piece, the b-side to The Prettiest Star (featuring lead guitar by, coincidentally, Marc Bolan!) - a gentle, lyrical song more akin to the quieter moments of the Beckenham Oddity bootleg from which it originally hails. Partly drawn from his time spent living in Clareville Grove, it's a poignant first-person narrative about a student who, despite his studies, finds himself unable to communicate with everyday people and feels disconnected with the world around him, full of happy, smiling people, and effectively composes a suicide note in song, ending his life by drowning himself in a river. An antecedent of this may well be the trad number, You And I And George which Bowie revisited, with typical perversity, during his Sound + Vision Greatest Hits tour. Bowie was to revisit Conversation Piece many years later as a bonus track on Heathen.
It's fair to say that although the Philips/Mercury years was a very difficult time for David Bowie, trying to find his place in a world that spat out one-hit wonders while he reached ever closer for some kind of relevance and insight, and cast about his friends and foes for some kind of way forward, he would find his direction out of the darkest moments of Space Oddity and The Man Who Sold The World.
As with Major Tom's media-hungry populace down on Planet Earth, he would need - as 1974's Big Brother put it - some kind of saviour. He also needed to firm up his game.
He had a mind like a warehouse, so many things to store, but we shall see that 1971 is effectively where David Bowie the artist came to be, with a lot of hard work and dedication. The dog days were over.
Blogalongabowie
7th February 2014.
CLICK HERE
TO CLOSE WINDOW