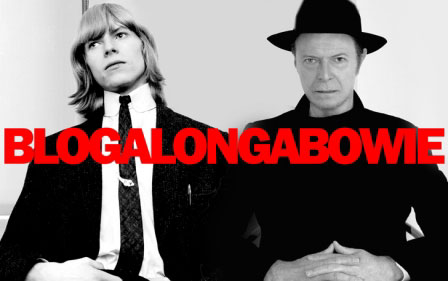 1971 All Clear: The State Of The Art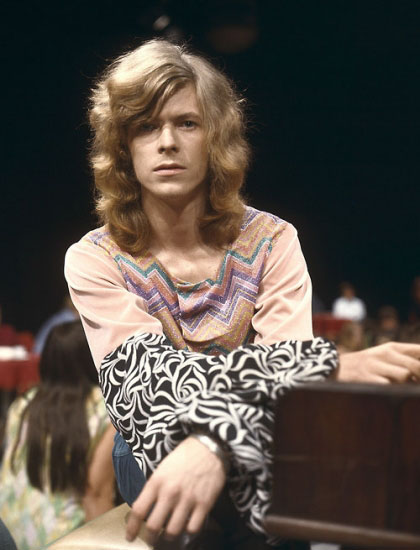 The year 1971 saw Bowie effect his most radical transformation thus far. David Bowie reinvented himself as a singer-songwriter.
After a relatively stagnant year, where many members of his inner circle feared that David Bowie was succumbing to a kind of creative inertia - where admittedly incredible The Man Who Sold The World was hammered together musically thanks to the Ronson/Visconti/Woodmansey power trio in the basement of Haddon Hall while his wife Angie sat at his bedside while he pulled together the fragments of paranoid visions and sci-fi horror into serviceable lyrics - Bowie amazed all and sundry as song after song after song began to explode from every pore until he had stockpiled a bank of appealing, highly melodic, piano-led numbers...
There appeared to be no singular trigger, but the sudden outburst of prolific songwriting can be attributed to a number of factors. One, it is worth remembering that his marriage with Angie was still in its honeymoon period - before the relationship soured the Bowies were a codependent pair of allies, and Angela had a very nurturing nature that bolstered Bowie's fragile ego which, coupled with her 'can-do', proactive attitude, made her a solid cheerleader-cum-organiser.
Secondly, nothing hones the creative spirit like seeing your friends become successful. Marc Bolan, with whom Bowie had enjoyed a friendly rivalry since they first met in 1965, was midway from his transition from a relatively successful underground act, with the patronage of Radio 1 DJ John Peel, to a bona fide chart-topping pop idol, taking Bowie's producer, Tony Visconti, with him. Bowie and Bolan were also mutual acquaintances of Elton John, a fellow stablemate at publishing house Essex Music, whose star was also in the ascendant with his albums Elton John and Tumbleweed Connection both breaking the top five album charts in 1970, ably assisted by producer Gus Dudgeon and arranger Paul Buckmaster who had helped craft the single Space Oddity.
It's no coincidence that Elton John's instrument of choice was the piano and that Bowie, who had hitherto wrote all his songs using a trusty twelve-string acoustic guitar, began using the piano in 1971 to compose all his music.
Thirdly, there's a more pragmatic concern that may have seen Bowie get off his pert behind and start hammering away at building up his songbook. After the release of The Man Who Sold The World, Bowie was sitting things out, allowing some outstanding obligations to expire before getting back into the game. With some coercion from Angie, Bowie disposed of Ken Pitt as his manager, and took on the services of a small, Soho-based company called Gem, helmed by a young man called Laurence Myers. Myers' right hand man, Tony Defries, an ambitious young lawyer, took Bowie under his wing, promising that he could make Bowie "bigger than Elvis" as soon as his deal with Mercury Records expired in mid-1971. Gem extricated Bowie from his old publishing contract with Essex and established a lucrative songwriting deal with Chrysalis, the company who would have great commercial success when they signed Blondie later in the decade.
With Myers and Defries taking care of business, David Bowie was able to start rebuilding his stock and focus completely on honing his craft as a lyricist and composer for much of 1971, building up an armoury of material that could be flogged to other musicians looking for a hit and provide enough demos to tantalise prospective record labels...
When I say that David Bowie reinvented himself as a singer-songwriter, I was not being trite. There are some people who are borne with an innate gift or talent that flows so freely through them, it has to be channelled and focused, so prolific are they. I'm thinking of born geniuses like Gustav Mahler, Peter Cook, Paul McCartney or Margaret Atwood. David Bowie had to work at it. His early recordings prove that he had an undeniably fertile imagination, but to be somebody, to really become somebody, David Bowie had to graft.
He spent much of the 1960s soaking up the work of other, more established, artists as part of his efforts to find his own niche, borrowing a bit here, a bit there. By his own admission, he's something of a collector, a collage artist, a synthesist, a sponge. When he wanted orchestral arrangements for his first album, he went out and bought a Penguin Guide to Classical Music. He pored over the works of more accomplished, established writers, poets and musicians to find the golden thread, the divine spark. But it took hard graft. And in 1971, graft he did. It was his first, most successful reinvention - Paul Trynka's superb biography Starman tells how, during 1971, Bowie would force himself to sit down at his piano in Haddon Hall for hours every day, with his admittedly limited piano skills, and take long walks and bus trips around Greater London with melodies and fragments of lyrics buzzing around his head - Life On Mars? was one such invention, the "sailors fighting in the dancehall" line nagging his brain one walk into Beckenham High Street, heading back home to commit the lyrics to paper - and began keeping dream diaries and creating what we now call "mood boards". Without even realising it, David Bowie had discovered positive visualisation and cognitive behavioural therapy. In the words of 1974's Rock 'N Roll With Me, he found a door that let him out.
This, if anything is why I admire the work David Bowie created in that magic period from 1971 to 1972. The song Changes betrays his own attitude at this time, the urgency with which he had to imprint his own musical mark on the world before he consigned himself to irrelevance through inertia - he'd been down a million dead-end streets, he'd seen his efforts thus far fall into impermanence, he had to change before he got too older, be a different man. Someone with balls and taste. Just a mortal, but with potential of a superman.
If anything, this is the rallying call of all his work up to and including the year he turned thirty, frequently voiced through his lyrics. Remember the urgent refrain of Station To Station - "it's too late... to be late again..", Song For Bob Dylan and Big Brother's call for someone to fill the leadership void, and, typical capitalist that Bowie is, the arch lyric from Star - "I could do with the money!"
There comes a time in every man's life where one realises that you have to shit or get off the pot. You can't keep waiting for the perfect opportunity to turn things around, you have to create that opportunity.
That's exactly what David Bowie did in 1971. The struggling, idealistic dreamer mutated into a young man with everything to prove and nothing to live up to. Within eighteen months, he was spearheading a youth revolution in the way we present ourselves, the way we communicate, the way we interact with our past, create our present and shape our future, with a fistful of anthems to prove it.
To paraphrase Bob Dylan's Ballad of a Thin Man - Something is happening, and you DO know what it is, Mr Jones...
See you next blog for Arnold Corns, Warhol, America and Hunky Dory.
Blogalongabowie
10th February 2014.
CLICK HERE
TO CLOSE WINDOW