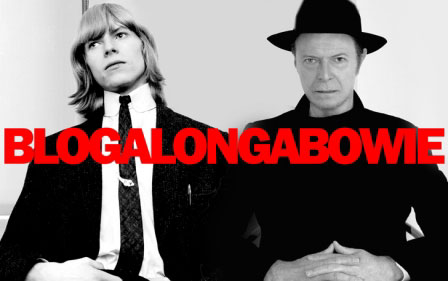 DAVID BOWIE'S SLIPPED DISCS 2:
"Shadow Man", "How Lucky You Are", "Rupert the Riley" and
"Looking For A Friend"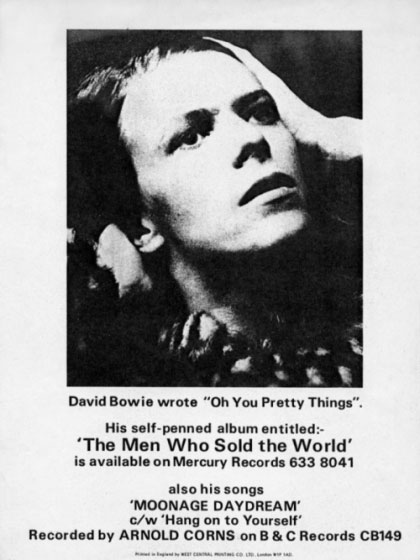 In this second instalment of Slipped Discs - where we take a chronological side-step into Bowie ephemera, outtakes and obscurities that fall in the cranks between official releases - we're going to take a look at some of the unreleased recordings David Bowie made during 1971, on the road to Hunky Dory.
Between April and July 1971, David Bowie recorded numerous demos at the Radio Luxembourg studios with a small band. These demos originally appeared on the first wave of CD bootlegs that appeared in 1989, The Chameleon Chronicles. Five years ago, they resurfaced as remasters prepared in 1990 for the Sound + Vision reissues, so are available in as good quality as one could hope for, albeit as compressed MP3 files.
One track which has fascinated and intrigued fans and Bowieologists alike is Shadow Man, a track musically indebted to Astral Weeks-era Van Morrison, but whose lyrics are Bowie at his most evocative and enigmatic, a meditation on ambiguous, Apollonian, unknowable prophet-seer archetypes that first make their presence known on Cygnet Committee and The Width Of A Circle, in time taking form as the enigmatic 'man who sold the world', Oh! You Pretty Things' golden ones, Ziggy Stardust and The Thin White Duke, and Diamond Dogs' Big Brother, and the Jungian revelation that these personalities could also be different facets of our own personalities, shadow selves trapped in human bondage.
More specifically, the Shadow Man is a clear spiritual ancestor of the Bewlay Brothers, as well as a direct descendant of 1967's Karma Man - both an intangible presence ("the guy who can't be seen"), an aspect of our more fully realised actual self a la The Width Of A Circle's Freudian monster ("Look in his eyes and see your reflection"), the two aspects of ourselves at war with one another ("You can call him foe, you can call him friend"), all of whom promise the path of enlightenment to those who heed his call ("for he knows your eyes are drawn to the road ahead"). It's not hard to divulge from this that Bowie was not only drawing from CJ Jung and Nietzsche, but also the incomplete, fractured, whole self of the Platonic ideal (cf Symposium) and the esoteric mysteries of Gnosticism. As with the Bewlay Brothers' schizophrenic nature, intimated in the line "He could be me, he could be you, he could be not" - a Gnostic paradox - Shadow Man ends with the refrain, "It's really me, it's really you" - a ghostly echo of the doomed martyr of The Wild Eyed Boy From Freecloud.
When confronted with this song in all its fragile beauty - the spirit of The Man Who Sold The World's psychological darkness filtered through the portents of enlightenment through a forthcoming stage of the human race's spiritual evolution delivered in the catchy form Hunky Dory's Oh! You Pretty Things - one can only wonder why Bowie left this song buried amongst his back pages until he revisited the long-forgotten song as part of the abandoned Toy project, and eventually gave his revision of the track a wider audience as one of the b-sides to 2002's Slow Burn single.
Supreme Bowie chronicler Nicholas Pegg, author of the indespensible 'Bowie Bible', The Complete David Bowie, posited a very believable reason for why this song languished in the darker recesses of his catalogue for three decades when he happened upon one of Bowie's own treasured texts during this period - an album titled The Thorn In Mrs Rose's Side.
The Thorn In Mrs Rose's Side is an album recorded by obscure singer/songwriter 'Biff' Rose, a name known by repute to hardcore Bowie fans as the composer of Fill Your Heart, the jaunty hippy nursery rhyme that kicks off Hunky Dory's second side, and Buzz The Fuzz, a song which was part of David Bowie's live repertoire from 1969 to 1971.
The closing track of The Thorn In Mrs Rose's side is a song entitled, simply, The Man. The lyrical similarities between The Man and Bowie's own Shadow Man are so close as to be legally actionable.
For example, compare and contrast Shadow Man's call to "Look in his eyes and see your reflection/Look to the stars and see his eyes" with The Man's appeal "See the reflection of where you've been before/I see you in my mirror", and similarly, "You can call him Joe, you can call him Sam/You should call and see who answers/For he promises to come running, guided by the truth", pace, "His name might be John, his name might be Christ/some call him Joe Destiny but listen a little longer/to the sound in his soul and you'll know he's really you and really me."
Clearly, a humungous influence on this glistening Bowie song. Be that as it may, the Toy-era remake gives the song a totally different accent. As with his revision of Conversation Piece during the same ill-fated album sessions, the hint of redemption and callow youthfulness in Bowie's original vocals is replaced by a more maudlin, introspective feel as Bowie intones the lyrics of his twenty-four year old self with the resigned, wistful gravitas of a much older, more reflective self.
Interestingly, David Bowie himself delivered a sequel of sorts to Shadow Man on the first Tin Machine LP, with its closing track Baby Can Dance. Tin Machine's first album, his "mid-life crisis" record, is a cathartic, warts-and-all document of a man coming to terms with his feelings of irrelevance after losing his way during the stadium era of the 1980s, and ghosts of his past dog the album throughout, but there's a sense of those demons exorcised on Baby Can Dance, the sound of a man who's recovered a long-lost plot, as he announces, "I'm the shadow man, the jumping jack/the man who can and don't look back."
Another track found on the same collection of 1971 demos is How Lucky You Are, aka Miss Peculiar, in the same spurned lover mode as his odes to Hermione and anticipating Lou Reed's Good Taste ("when you walk you follow, two steps behind"), and notable for a nagging, staccato piano motif that mutates into a repetitive foxtrot not unlike the claustrophobic, goth-disco-samba of The Chant Of the Ever Circling Family.
When you speak you speak to me
When you sleep you sleep by me
When you wake you wake with me
When you walk you follow two steps behind in life

Shadows stalking, ever grasping sinking for a need
It wasn't love it was the fix of never wanting me
Now I'm gone, you're tossing and you turning in your sleep
That's the name of the game, of the game, of the game

Cry, Miss Peculiar
You'll cry all the more, now I'm gone
I was the monkey on your back
Take a look at how lucky you are

When you speak you speak to me
When you sleep you sleep by me
When you wake you wake with me
When you walk you follow two steps behind

Cry, cry, Miss Peculiar
You'll cry all the more, now I'm gone
I was the monkey on your back
Take a look at how lucky you are

Some days are heaven, I will not deny
Probing the daylight cascading the skyline
Tripping and diving and losing it all
Back came the night time living for more

Cry, cry, Miss Peculiar
You'll cry all the more, now that I'm gone
I was the devil monkey on your back
Take a look at how lucky you are

When you speak you speak to me
When you sleep you sleep by me
When you wake you wake with me
When you walk you follow two steps behind
It comes to pass Lou Reed's Sally Can't Dance outtake, Good Taste... clearly channneling Bowie. Hence forth, with a similar 3/4 time...
You're makin' a fool out of yourself
By following me around
Like a Japanese woman who stands ten steps in the shadow of her man
You're following me around
You're following me around

You're makin' a joke of yourself
Your friends are talking behind your back
You're makin' a joke of yourself
Your friends are talking behind your back

What you gonna do?
What you gonna do?

Makin' a fool of yourself over me
Makin' a fool of yourself, can't you see
Makin' a fool of yourself over me
Over me, over me, over me
Proves that you have good taste

Makin' a fool of yourself
By slipping around
Shooting up (?)
Under the ground

But it just gets to prove
That you've got good taste
You've got good taste
Tired Of My Life can be found on many bootlegs, being an introspective ballad based upon a song David wrote when he was aged 16, according to Tony Visconti. It sounds too mature for that provenance to be true, doubtless having been overhauled comprehensively in 1971, but it has one notable verse which anticipates Ziggy's paranoia over the price of fame and carried a lot of weight when the song was retooled in 1980 as It's No Game, on Scary Monsters (And Super Creeps), with a lyric that eerily prophesises the murder of Bowie's friend and inspiration, John Lennon, later that same year:
Throw a rock upon the road and it breaks into pieces
Shake a branch upon the snow and the sun is defeated
Pull the curtains on yesterday and it seems so much later
Put a bullet in my brain and I'll make all the papers
Onto lighter fare, and we encounter Rupert The Riley, a novelty song dedicated to David Bowie's vintage car, a 1932 Riley Gamecock, a piano-led, daft-as-a-brush, toe-tapper somewhere between the Deram albums whimsy and Oh! You Pretty Things' deceptively jaunty catchiness, as well as featuring a "beep-beep" refrain that also resurfaced in 1980, on the hit single Fashion.
The last track of note is Looking For A Friend, a hippy-lite singalong about brotherly love with a laidback groove, originally recorded at Advision studios, and later re-recorded with a fashion designer friend of Bowie's as a potential hit single.
Rupert The Riley and Looking For A Friend were both recorded by vocalists other than David Bowie. Rupert The Riley features a vocal by Mickey King, although his contributions are buried beneath Bowie's more recognisable vocals, while Looking For A Friend was recorded by a semi-fictional band called Arnold Corns, a punning name ("A.Corns") inspired by Arnold Layne, Bowie's favourite Pink Floyd song. And from little A.Corns, great Ziggy grew.
Arnold Corns was an invention of Bowie's, when, as a means of getting Bowie material out into the public domain while he sat out his Mercury contract, a frontman was appended to the record, Milli Vanilli style - Bowie's haberdasher friend, a fashion student from Dulwich named Freddie Burretti - in order to test the waters and see how the media took to a Warholian self-announced celebrity.
Arnold Corns and Freddie Burretti are a curious footnote in Bowie's pre-Ziggy perigrinations. Three songs attributed to this band and its nominative frontman were released across three singles in mid 1971, being threadbare try-outs of the Ziggy Stardust album in a musical style heavily indebted to the Velvet Underground's Loaded album. Burretti, like Mickey King, was a fixture of the gay scene in London's Sombrero Club which Bowie and Angie frequented, and Bowie pushed Freddie forward as "the next Mick Jagger", despite being anything but. (Burretti's vocals are transparent next to the more obvious contributions from David and guitarist Mark Carr Pritchett)
Musically, the Arnold Corns singles are an ephemeral footnote, but the concept of packaging a pre-made 'star in the waiting' in the form of poor old Freddie was clearly a rough test for the Ziggy Stardust concept. Burretti would have his own stake in the Ziggy phenomenon, as he became Bowie's costume designer for the Ziggy Stardust tour, creating the "circuit board" costume worn on the cover of the 1972 album, the quilted jumpsuits Bowie wore on Top of the Pops and Russell Harty Plus in 1972 and 1973, while the androgynous, gender-bending games of Freddie and his accomplice, Daniella Parmar inspired David and Angie's increasingly outre fashion statements, Bowie with his swishy satin and tat while Angie came on like a cropped-haired, platinum blonde butch femme.
Mickey King, a high-end sex worker, was brutually murdered in 1974 by one of his clients, while Freddie Burretti died on May 11th 2001 in Paris, aged 49. Bowie's mixing in these queer circles, instigated by the more adventuorous Angie, was a powerful thrust towards giving his next incarnation the transgressive agency that put him in the spotlight as a new kind of rock star.
These demo recordings are all part of the musical and conceptual soup that would coalesce when David Bowie came to fashion together his first album for a new label in September 1971, the much-loved Hunky Dory, and his choice of accomplices and inspirations would set the tone for the next two years of Bowie's career. What about Iggy Pop and Lou Reed?, you may wonder. Well, to quote Little Wonder - "I'm getting there..."
Blogalongabowie
12th February 2014.
CLICK HERE
TO CLOSE WINDOW