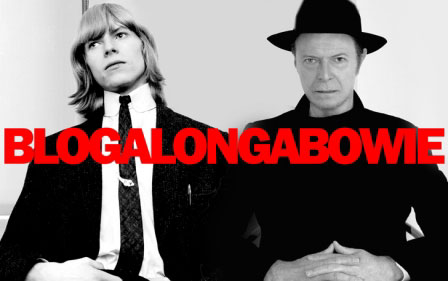 Young Americans: Exploding, Plastic, Inevitable
"It just supplied a need in me, America, became a myth-land for me. I think every kid goes through it eventually but I just got onto it earlier"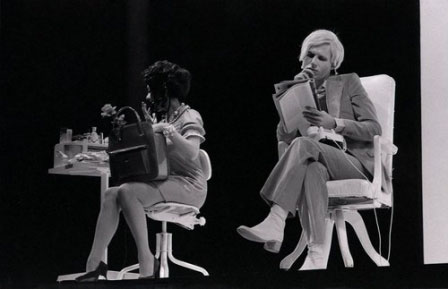 As well as his moving from the guitar to the piano as his compositional tool, another sea change in how David Bowie began to assimilate influences into his music between 1970 and 1971 was the increasing prevalence of the American rock subculture as a source of inspiration.
A number of American influences began to directly affect his hitherto European, somewhat parochial, creative outlook at the turn of his most fruitful decade. Sure, his earliest 45s had drawn on the teenage David Jones' R&B based record collection, and come the end of the 1960s he was sporting a bubble perm and harmonica that owed as much to Bob Dylan as his rival Marc Bolan in his folkie phase, but up to and including his 1971 'moonlighting' as Arnold Corns, his musical palette was largely drawn from Euro-based musical traditions.
As much as Ziggy Stardust is musically Son Of Hunky Dory, a number of influences had pushed him states-ward as the real direction rock was heading in terms of ideas and impact. Let's itemise them to get a sense of David Bowie's headspace, late 1971, when he was putting Ziggy Stardust to tape...
MID 1967. THE FIRST VELVET UNDERGROUND ALBUM.
Sometime in early 1967, with Bowie's first album of twisted, whimsical nursery rhymes in the can, Bowie's manager Ken Pitt returned from a business trip in New York with an acetate of the Velvet Underground and Nico's first album, which didn't hit UK record shops until November 1967.
Having spent the best part of the year creating subversively twee ditties about gnomes, bombardiers, cross-dressing soldiers and mommy's boys, no doubt the effect of hearing Lou Reed's first person observations of Bowery rough trade, disenfranchised society girls, street-walking drug addicts, S&M freaks and nocturnal depressives kicked something into touch. He took his pickup band Riot Squad into the studio in summer 1967 to cut a harmonica-heavy cover of Waiting For The Man (soon to become a fixture of later tours) and a uniquely British perversion of Venus In Furs called Little Sadie (Toy Soldier).
It's easy to imagine why a South London suburbanite found the demi monde portrayed by that Warhol-packaged album so seductive and alien. There was nothing like it in British rock at the time. If there wasn't life on Mars, there was surely life beyond Soho and Bromley.
1969: MEETING ANGIE.
Angela Bowie, nee Barnett's, importance in the Bowie story is often underestimated, but had David Jones not met this provocative, intense, determined and formidable Kingston Polytechnic graduate, Bowieology would be a very different world indeed, and David Bowie's subsequent career would be more along the lines of Paul Nicholas or Mike Berry rather than sat within the pantheon of rock gods as the king of alternative rock.
It's fair to say that Angie, a full-blooded bisexual with a steely sense of self-preservation and a shrewd business mind, played a massive part in bringing Bowie out of his shell and setting himself on his path to becoming the wild mutation that was Ziggy.
Angie Bowie made things happen. Within months of meeting Angie at the Crawdaddy in 1969, she engineered a meeting with a mutual friend at Philips Records who signed up Bowie for his first hit Space Oddity; she played a big part in helping Bowie organise the Beckenham Free Festival whilst David was grieving the recent loss of his Father, taking care of the business end; negotiated the rent at the Bowies' flat in the dilapidated Gothic pile Haddon Hall; costumed and fed Bowie's band members and spent many late nights pushing the creatively catatonic Bowie into completing and editing the lyrics that eventually graced The Man Who Sold The World.
Angie also helped developed Bowie's showmanship in terms of theatrical costume, for the Hype gig at The Roundhouse when glam rock was invented, and surely encouraged Bowie to explore his sexuality, if various biographies' accounts of trysts in the Bowie boudoir are to be believed.
Bowie has in later years somewhat retracted his bisexual activity and identity, But Angie Bowie continues to be a very active and vocal supporter and advocate of bisexual and pansexual orientation, so for any teenage Bowie who discovered through the power of Bowie that fancying girls AND boys is not only valid but cool, has as much to thank Angie as the starman.
That the relationship between David and Angie famously went to shit is a matter of public record, but in the run-up to the Ziggy years and its heyday, Angie Bowie was the power behind Ziggy's throne. She even deigned to try-out the controversial image statements (for 1972) of cropped hair, a single earring and shaved eyebrows before Bowie debuted them publicly.
DECEMBER 1970: THE STOOGES' FUNHOUSE.
Bowie's evangelical conversion to the Detroit garage sound was fairly overnight. Doubtless having sampled the genius of the Velvet Underground ahead of every other Briton, he desired other new sensations across the pond. Cygnet Committee on Space Oddity namechecks the MC5's just released Kick Out The Jams, and come the end of 1970, David Bowie was a lone voice when he placed a vote in a music paper's Best of 1970 poll for Iggy and the Stooges' now-seminal Funhouse album.
A well-connected rocker like Bowie would have heard reports of Iggy and The Stooges' antics through the rock media grapevine, and it's not hard to imagine how Bowie must have felt, having laid down the ultra-heavy, Man Who Sold The World, only to be confronted with the Stooges' attack on Funhouse, and wondering if the next time he formed a hard rocking three piece it should be a bit less Cream/Hendrix orientated bloated sonic terrorism of TMWSTW and more along the lines of Iggy's sinewy, Mothers-meets-Velvets direct approach. The singular attack of Hang Onto Yourself and Suffragette City may be pure Gene Vincent, but would not sound quite so clean and mean without the influence of Iggy's Loose or Lou's White Light/White Heat to streamline it and make it still sound relevant to the children of punk five years later.
EARLY 1971: RODNEY, FOWLEY AND THE REST.
Famously David Bowie had a road trip in North America, promoting TMWSTW. Experiences ranged from having a gun held up against him while he wore his "man's dress" - a literal confrontation between the British and American sleeve designs - but he also spent some time with Rodney Bingenheimer, the American rock DJ and self-confessed Anglophile, and met the shadowy, Svengali-like producer Kim Fowley. Fowley was behind the Hollywood Argyles' novelty song "Alley Oop" (as covered by Bowie favourites the Bonzo Dog Band) which featured the line "Look at that caveman go!", filed away for future reference.
It seems fair to estimate that during this sojourn Bowie would have caught his first sight of the Alice Cooper band. David Bowie has been generally dismissive of Alice Cooper in many interviews, which shows an unnatural lack of judgement of his part given that the Alice Cooper band's thrift-shop drag anticipated the New York Dolls, with whom Bowie was briefly enamoured during 1972/1973, and the whole Alice Cooper concept was as transgressive and fictionalised as the Ziggy Stardust project. (For the record, Alice Cooper was the name of the band, not the singer, and furthermore the singer 'killed' himself every night with a ritualised bit of stage business involving a trick guillotine - rock and roll suicide!)
Reportedly, Bowie also met a curly-haired individual in New York whom Bowie assumed to be his hero Lou Reed, and it was only after spending an hour rhapsodising to this bepermed gentleman about the transformative powers of "Loaded" that Bowie was informed that he had spent the best part of sixty-minutes chatting to Lou Reed's replacement in the Velvets, Doug Yule. When this story got back to Bowie, rather than being embarrassed, it tickled him that a fake star could be just as genuine to the unwitting audience as the real deal, and doubtless appealed to his sense of artifice that added to the Ziggy concept.
SUMMER 1971: ANDY WARHOL, AS IN HOLES.
Bowie's second NY sojourn was in summer 1971, with the best part of what would become Hunky Dory under his arm in the form of a white label demo, and he finally got to meet both Andy Warhol and Lou Reed, some four years after discovering the Velvets' debut. By all accounts, Warhol was horrified by the account given of himself in the song of the same name, but the newly-solo Lou Reed was tickled pink by Bowie's White Light/White Heat homage Queen Bitch, and the two chaps struck up a gentleman's agreement for Bowie to produce his next album. A monosyllabic conversation with Iggy Stooge also occurred at vaguely the same juncture. The pieces of the jigsaw were in place.
At roughly the same time (circa July 1971), the second generation of Warhol's Factory of superstars had in production a play based upon Warhol acolyte Brigid Polk's transcripts of hours of conversations with Warhol. The UK production, circa July 1971, capitalised on the newsworthiness of the BBFC banning Warhol's movie about rent boys, Flesh, being banned from the Scala the year before.
Bowie was intoxicated by the extrovert exhibitionism of the cast re-enacting the decadence of the Factory, and within a year every main cast and crew member - Tony Zanetta, Cherry Vanilla, Leee Black Childers, Jayne County - would be in the employ of Bowie's management company MainMan to bring some of the Warhol Factory personality-based glamour to the emergent Bowie brand. The Pork cast, alternately, were signally underwhelmed by Bowie, when confronted by his Hunky Dory image of "a hippy in a frock" but it was almost as if Bowie himself was tapping into the play's perversity and playacting to channel his own creation's polymorphous decadent glamour, and step centre-stage to import this very New York subculture into what would be a very British panto act.
David Bowie sampled the New York and Detroit underground world and drew back all its most distinctive qualities that Britain has not seen, to manufacture and confect a larger than life character, that he would soon be portraying on the civic centre stages and TV screens of a dowdy Great Britain still adjusting to colour TV.
As the titular star of the fantastic glam rock musical Hedwig and the Angry Inch, "Then there were the crypto-homo rockers: Lou Reed, Iggy Pop, David Bowie - who was actually an idiom working in America and Canada."
Time to freak out in a moonage daydream, on a rainy street in Soho, in 1972...
Blogalongabowie
13th March 2014.
CLICK HERE
TO CLOSE WINDOW