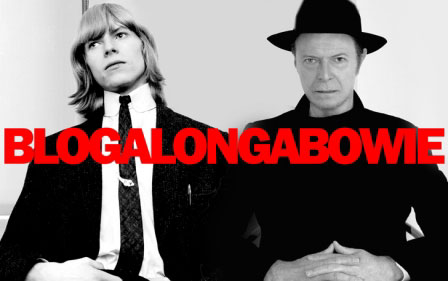 'All the way from Memphis...'
- Aladdin Sane (1973)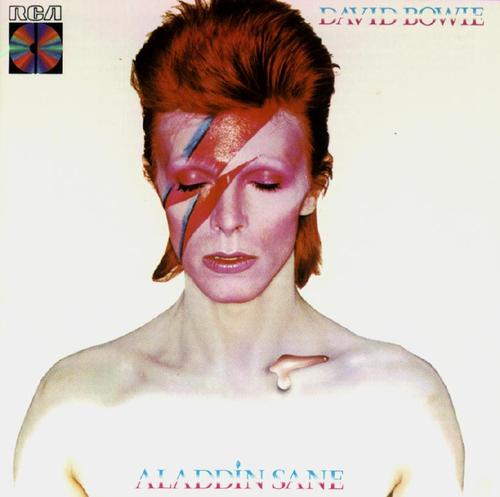 As high concept goes, 'Ziggy goes to America' is effectively the nucleus of Aladdin Sane.
The album had been preceded by, and evolved during, an intensely packed three month tour of America, wherein the boy David finally got to thoroughly sample the exotic charms of the "myth-land" that was the origin of his generation's rock and roll fantasies. A show performed at Santa Monica, California, in October, etched its place in rock history when an FM stereo broadcast became the source of numerous bootlegs capturing the sound of the Spiders as their sonic attack became much more raw and punk-like compared to relatively polite performances documented on bootlegs such as Kingston Poly '72...
Ronno and his band had become, over time, a tight three-piece combo in the mould of his beloved Cream and Jeff Beck Group, as equally able to sledgehammer Hang Onto Yourself, Moonage Daydream and brand-new number The Jean Genie with punk rock economy as give Lou Reed's Waiting For The Man a pumping, grinding, rhythmic quality in place of John Cale's barrelhouse piano on the original, with bandleader Ronno switching to very fluid bass guitar as he accompanied Bowie's twelve-string acoustic on Andy Warhol and Jacques Brel's My Death. Gentler numbers such as Starman, Song For Bob Dylan and Quicksand fell from the set list, already remnants of another era. Meanwhile, to stage left, jazz pianist Mick Garson added his florid embellishments to Ziggy numbers, soon placing himself as an invaluable ingredient of Bowie's latest quest for a richer, more cosmopolitan sound.
All this is documented faithfully on the Santa Monica bootleg (along with some spaced-out patter from Bowie, suggesting his recreational habits had evolved from white wine and cider), which has been officially released twice - once by Bowie's former management company in 1994, on clear vinyl with a surfeit of tour memorabilia replicas, and later in 2008 by EMI.
It's this much more punchy, kinaesthetic sound that immediately makes its presence felt on April 1973's Aladdin Sane. The Ziggy album was basically 'son of Hunky Dory', the sound of a band and singer that had been created entirely in the studio with no road-testing, carefully crafting a wish-fulfilment fantasy with a few future classics into the bargain. Aladdin Sane, by the same token, was written and recorded on the road, and introduced a more fully-blooded Spiders, led by a more confident Mick Ronson taking centre-stage with some of the most visceral guitar work of his career, not to mention being a notably more visible presence, credited with arrangement and mixing duties, and a more full-bodied sound including indomitable session singers The Thunder Thighs, a strong sax section and the aforementioned Garson's glissandos.
It's far from a sequel, in much the way that Ziggy was far from a concept album. As a story of a rock star's rise and fall, Ziggy was in essence an exercise in wish-fulfilment from the perspective of a frustrated cult artist desperate to taste fame. In contrast, Aladdin Sane, Bowie's first album recorded and released from a position of power, was a field report of his findings, having become "rock's swishiest outrage" in the UK and had his first stab at taking on the States.
Mapped out over this more involved sonic territory, are Bowie's dispatches of a culture as alien as Mars - the fragments of America he glimpsed on his Greyhound bus tour (faithfully journalled in the David Bowie/Mick Rock coffee-table photography collaboration Moonage Daydream).
Many bands have conceived and realised albums during the mad rush of a non-stop tour, and Bowie himself would modestly concede that he didn't feel able to write 'on the road', but Aladdin Sane is a suitably kaleidoscopic snapshot of what a budding rock star encounters when he gets what he asked for. Bowie was no longer the jealous voyeur-stroke-dreamer of his Deram vignettes.
He also found himself able to go head to head with the two major figures of the era. Having already vampirically imbibed the lean, mean efficiency of Mott The Hoople (whose All The Way From Memphis is a picturesque document of their time on the road with Ziggy and MainMan), he next sought to challenge The Rolling Stones, whose Sticky Fingers and Exile From Main Street proved they still had some fight in them, despite being nominally sixties relics, whilst Roxy Music's recent innovations also haunt the album in places.
This "Stones agenda" first becomes apparent on Watch That Man, which faithfully duplicates the busy, raucous sound of Exile, while also being a sequel of sorts to Suffragette City in terms of addressing the pressures and distractions of rising fame. The lyrics are pure Bowie, though - it's unlikely that Jagger and Richards would invoke Benny Goodman and jazz standard "Tiger Rag" whilst also depicting a crucifixion at a party (future echoes of Joe The Lion!), but it's equally likely to read 'the man', the rival, as Jagger, the man whom Bowie sought to depose as his rival, now Marc Bolan's star was in a declining trajectory. Elsewhere, Bowie makes his mission statement more direct with his full-on assault of Let's Spend The Night Together. Originally an R&B flavoured paean to making out, Bowie embellishes it with divebombing synthesizers, crashing splinters of piano and Ronno's dirty guitar, transforming it into a pansexual orgy.
But it's not Bowie's emulation of the Stones that makes Aladdin Sane memorable. It is worth noting that in the period between the release of Ziggy and Aladdin, Roxy Music had arrived in spectacular fashion. If Bowie and Bolan had established something approaching a glam rock template, Roxy proved themselves on Bowie's wavelength, by injecting a postmodern art sensibility to the affair - what could kindly be called 'retro-futurism'. The group's fashions, a combination of Hollywood, Teddy Boy and science fiction kitsch, effectively translated into their music, with Ferry's smoky ballads and urgent rockers filtered through a sound that was equal parts space-age, lounge music and rockabilly.
Glam Rock's rise saw a lot of bands jump on the bandwagon, bands that were basically 1950s revivalists, or failed bubblegum pop acts, such as Mud, The Sweet, Gary Glitter and Alvin Stardust, recasting themselves as glam with judicious use of descending minor chords, T. Rex-esque easily repeatable choruses and phased sound effects. Bowie was and remains rightly dismissive of these charlatans, who'd never seen Metropolis, Cabaret or A Clockwork Orange, but Roxy were one to watch.
So, is it any wonder, that as well as Mike Garson's piano - concertina-ing the years between the Weimar Republic and the Be Bop era - Bowie also threw into the mix for his new album, a doo-wop groove anomalously contrasted with bursts of synthesizer explosions and strident horns, as on Drive-In Saturday and The Prettiest Star?
Perhaps the most notable songs are those with no notable source or context. By no small coincidence, these are the tracks that most electrified me and which I shamelessly, subjectively adore.
What always grabbed me, from day one, with Aladdin Sane was the combination of the Spiders' rock sound and Bowie's literate, sensual lyrics, with a side order of the more organic additional instrumentation.
First off, the title track. Rock music never did this before. How ballsy to sell a hit album to pop kids, youthful acolytes, and hit them squarely with a title song that's not only an askew homage to Vile Bodies by Evelyn Waugh, one of the greatest novelists of the twentieth century, and then hit them with an insane, yet beautiful, piano solo which would probably be many of those kids (self included) first introduction to Jazz.
After the rock and roll debauchery of Watch That Man, it's a hell of a paradigm shift.
Jump forward to another key track, Panic In Detroit. Praise be for Ken Scott's production and Mick Ronson's arrangements, with Ronno's amazing guitars, Trevor Bolder's Bo Diddley bass, Woody Woodmansey's tumbling and ricocheting percussion, neatly accompanied by a gorgeous samba via Geoff McCormack's congas and the powerful interjections of the Thunder Thighs.
Lyrically, the song picks up where the Width Of A Circle left off, with the narrator of that older song skipping school to seek his own form of education, in the white heat of an urban riot, and his adventures across town recalling the Spring-heeled Jack antics of the protagonist of It Ain't Easy. The real star here is the sonics, the way Woody's phased percussion and Ronno and Bolder's Bo Diddley beat combines with the shrieks and wails of Ronno's guitar and Linda Lewis wailing her heart out like a car siren. It's a brilliantly funky audio collage.
Cracked Actor is a snarling beast, with Bowie adding some sleazy harmonica, making this vignette of a faded Hollywood star - Monty Clift or Rock Hudson? - pimping himself out to rent boys by far one of Bowie's sluttiest songs, pure filth. "Suck, baby, suck!"
The penultimate song I want to look at is Time. One of his all time greats in my book, advancing the existential concerns of Rock 'N' Roll Suicide, introducing the word "wanking" to rock - when I was a Bowieite I was very na´ve and had the foolishness to ask my very stoic and sensible dad, after hearing this song during a long car journey, "Dad, what does wanking mean?" to which he sagely responded, "I'll tell you when we get out of Kidderminster." - and Bowie at his most theatrical and queer. It's a beauty, Bowie at his melodramatic.
We, and the album, leave with Lady Grinning Soul. There's no doubt that it is a sexy song, but what's troubling is it's from the perspective of a man intimidated by the 'otherness' of woman. Which is probably why as a na´ve, inexperienced, incipient queer, it felt strangely exotic. But, it does have one of the most gloriously florid and grand endings of any Bowie album ever, as Garson brings the album to a flourish.
Blogalongabowie
20th April 2014.
CLICK HERE
TO CLOSE WINDOW