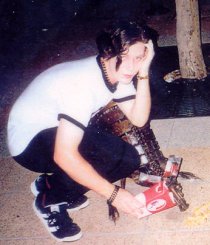 Diamond Dave




THE FIRST TIME




In March 2002 I received an email from a friend in the UK with the news that David Bowie was about to release his first studio LP since 1999 for his new record label, ISO/Columbia.

Heathen set for a June release was to be toured through the UK, Europe and of course America. Once again it seemed Australia was to be left off the list with Bowie's continual fear of flying being a determining factor. His last tour out here in Australia came in 1987 when I myself was only a string puppet in 4th grade.

With age no longer his friend, Bowie's days on the road were now becoming a rare commodity and I knew there would be fewer chances to see him live with each passing year. Within weeks the BowieNet members only show at the Roseland Ballroom was penciled in for June 11th to commence yet another tour. Soon after dates in the UK and Europe were announced and tickets were selling fast. Before long the news came through that Bowie would be a headline guest on Moby's Area 2 shows in the second half of the year across America and on June 8th Heathen was released to critical acclaim with reviews bragging that at last this was Bowie's best since Scary Monsters. Shows by now were selling out and the grand Dame was one of the hottest tickets on the summer concert calendar.

Upon hearing a bootleg of the Roseland concert with perhaps one of his best set lists ever, it soon became evident that I needed to see one of these shows. By a pure stroke of luck a good friend from BowieNet had won a competition to "meet and greet" with Bowie at the Detroit Area 2 show on August 8th. With work commitments preventing her to get away she was unable to utilize her prize. I was offered this charmed pass which later fell through. Unfazed I had decided it was time to make the long haul across the globe myself and see what all the fuss was about. My only problem lay in lack of funds.

With time running out help was close at hand in the shape of a most wonderful Australian fan in Perth along with my girlfriend, Sally. The money was now taken care of and on a warm winters Saturday afternoon I made my way down to the travel agent to pick up my plane ticket. In a matter of days I was off to America to chase a dream, a dream that I thought would never occur.

Not being the greatest at flying myself the trip to the land of stars and stripes was a long haul. 24 hours to be precise before I would arrive in LA.

Upon touching down I set foot on the grounds of LAX to be greeted by a fragile country. America was now a land that lived in fear following 9/11. Security was abundant throughout LAX and entry was tough for some, yet somehow lucky for myself with less than 3 questions being asked of me upon arrival. Looking around at the monstrous spaces of LAX made Heathrow look tiny in comparison. The American people like it big, very big! The courtesy was on hand too. "Have a nice day" is the common thread spun by locals around these parts of LA and within minutes a cab driver had me whisked away to Burbank where I would stay for a few days before the LA show.

The weekend was hard. Sultry hot weather and the anticipation of a Bowie concert made it hard for me to take in the beauty of Santa Monica (scene for one of Ziggy's greatest moments) and Venice Beach, a long stretch of beautiful people, stylish clothes and white sands that carried on for miles. At any other given time I may have been able to capture these pleasantries in full, though with my first Bowie concert just a day or two away it was next to impossible. What made things harder still was the news that Bowie would be a guest on The Jay Leno Show to be taped on Monday afternoon.

By 6am Monday morning I was in the queue for tickets to the Leno show only to miss by a heart beat. Clutching my reserve ticket I spent the day in on Hollywood Blvd. picking up a few rolls of film and other assorted tourist items I headed back to NBC's studios with the news that Simone from BowieNet had a spare ticket for me to attend the Leno taping. This was where my heart began to beat faster. In only an hour or so I was to be seeing Bowie in the flesh for the first time. Not only was I seeing him in the flesh, by 4.45pm I was up front in the back lot audience to see him perform 'Cactus' and 'Everyone Says Hi!' with Moby before my very eyes! His beauty and radiance shone stronger than the scorching sun behind us. In between numbers of this two song jaunt I yelled out a typical question for any Australian fan.

"When are you coming to Australia?" I squealed.

"What?" he muttered turning to attend to the question I thought he would ignore.

"When are you coming to Australia? It's been 15 years!"

To which he replied "Oh really? Has it been that long? What year?"

"1987, when are you coming back? I was a baby when you last toured."

To which he smugly answered "A baby? Well so was I. I'm not that old man."

By now my heartbeat was well over the limit of normality.

"You're still selling records. Please come out. We'd love to have you." to which Bowie retorted

"Well, I'll bring my Mambos shall I? Better still, you come to my place in Manhattan."

"OK, when?" I enquire.

His grin now widens with the response "Ohh, you won't want to, I'll come to yours and we can have a BBQ."

"Yes please! We love you David."

"Well, so do I." he closes.

By the end of the performance I'm somewhat lost for words in the car park before some lovely BNutters have me in the bar where many thanks to Aliza, Sacheen and Scott I can write down my recent experience in my travel diary before the memory escapes my scattered mind. I had somehow snuck my camera in past security which meant I was able to snap some glorious pictures of David only a couple of meters away to complete the experience. How am I meant to sleep with the LA show less than 24 hours away?

The next few days will prove to be nothing short of magical.

To be continued...


Diamond Dave.
10th February 2003.