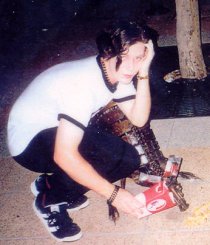 Diamond Dave




It's About Time Davey Said Hallo!




Hi guys,

I'm now well into my second week of the Reality tour over here in the UK and France with yet another show to see tonight here in Birmingham.

I started in Nice down in the south of France and found this place to be a most beautiful city and a small one at that. I would say that it does remind me of Bondi in Sydney if that helps paint a better picture for you?

The Nice show on the Monday evening was fabbo! I turned up at the venue early to get in line and was stared at a lot by other fans as I had my "Tour outfit" of black pants, black shirt, black dinner jacket, trainers and a bright PINK tie with a face full of powder and eye liner. There was a surprisingly high amount of younger fans there too. The show itself was ok but for Bowie having to cut the show short by a few songs due to his bad voice.

One of the scariest moments of my life came along after the show looking for a bus back to town.

I went strolling down this looong dark and poorly enthused street and before long two guys come up to me and ask for money. I say that I have no money and am poor myself yet they choose to pull a knife out and begin to look a little more frightening. With this in front of me I turned and ran like I have NEVER run before for at least 3 km's. The creeps chased me hard and even trying to stop the odd car for help came to nothing. My heart was racing like nothing else for the rest of the night.

The next day it was off to Toulouse for the next show yet when I fell into town I heard the news that the show was cancelled due to Sailor boys bad throat :( o problem for me as Toulouse was a bit of a small town full of well, erm... not a lot :(

Next stop was Marseille and perhaps one of the better towns in the south of France. My main problem had been to this point speaking French or getting the locals to speak English for help. Even the girl in the erm, "Tourist" office could hardly speak English!

Twas in this town that I met up with a few BowieNetters who were more than helpful and took me around the place for a little look. On top of all this the Marseille show was nothing short of SUPERB!!!! Great set list and great atmosphere. By morn we were off in a car to Lyon and a cold place this was too.

The Lyon show itself was poor. Bad atmosphere and this complete twat behind me the whole time trying to jump on my back covered in tinsel and drunk as could be. I've been recording these shows with surprisingly good sound quality yet during the intro for "The Loneliest Guy" this wanker behind yells out "Play Pablo Picasso you motherf**ker... you're a f**king motherf**er you motherf**ker of a legend."

After the show we all ended up at a hot dog stand where many of the party munched away on these well oversized hot dogs! YUMMY! Mind you this was after I was approached by a group of French girls who thought I was Duncan Jones (Bowie's son) and refused to leave me along till I signed an bit of paper for some girl called Kristen! Very funny moment. Then it was back to the hotel for more drinks and chat before we all, well most of us retired leaving some of the party to hold the ship tight downstairs.

After a shower and maybe 3 hours sleep I woke up and found myself in a taxi to the train station bound for the airport. Problem was the cab driver took me to the wrong station and I missed my flight by 3 or 5 minutes and the f**kers wouldn't let me on board!!!! Stranded in the middle of bumblef**k I was lucky to meet a couple who were also late and to my good luck had a car so we all drove back to Lyon for the train to London that cost a massively overpriced 290 Euro's!!!!!! That is close to $600AU for the skips back home :-O

Following my night on the National Express I found my way to the YHA in Manchester and settled in for some much needed kip to prevail the Manchester show where the old fella was again in fine form. After the show we found our way to the Hard Rock cafe where the DJ only had the singles collection in what was promised a night of post concert Boz! He would not even throw on my copy of Reality either the sod.

So now here I am in cold and frosty Birmingham ready for another onslaught of Bowie and Bowie fans!

Have not been able to take a lot of pics thus far though I will try and get some good 'uns in the coming days and email them out asap for you all. Another cool moment came today when I settled into lunch at Pizza Hut and one of the girls comes up and says....

"We girls think you look like Bowie we do."

At least the Brits and Euro's can understand how good Bowie is ;p

Overall France was fun yet hard thanks to the lack of friendly locals I encountered. The UK has thus far been the normal bundle of fun and things are going to come to a close very soon.

I do hope everyone is well and again for all you skips on the list you guys will love this tour when it heads to Oz early next year.

Chat to all you fanplastical ppl very soon.

Cheers for now kids!


Diamond Dave.
19th November 2003.