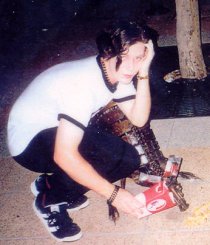 Diamond Dave




Is This The UK or What?




So there I was in the Cobblestone pub in the heart of Dublin. Gail Ann Dorsey sitting with Sterling Campbell only a few seats away. Earl Slick chatting with punters on the other side of the room leaving Gerry Leonard and Mike Garson on the small and cramped stage playing an array of fine music. It was a private invite only gig by Spooky Ghost that was a most wondrous time. To my surprise Earl Slick is not that tall and talks as if he was a woman in a former life. He also found it astounding that I was Australian AND that I had travelled that far to see these shows.

This indeed folks was only last Friday night in Dublin at the start of an amazing weekend!

Following two splendid Bowie shows in Birmingham I had my doubts about Dublin living up to the same highs? How wrong was I? Staying in a house with about 12 fantastic Bowie.Netters was something yet what prevailed over the weekend was only ever going to be MASSIVE!

For Saturdays show I started the day watching the Brits win the Rugby World Cup in a corker of a game. Following this moment of bloke induced fun with a couple of the Brits I made my way into the bath room for a splash of make up to go with my concert attire. Black all over with trainers and a PINK tie always works well ;p

Mind you before the show itself in the local pub just around the corner from the Point venue I found myself in deep discussion with Brent, the drummer from The Dandy Warhols along with the sound engineer. After a couple of drinks Brent begins to ask me about cricket and before I know it he passes on his email address and makes me promise I will take the band to a one day cricket match in January!!!!! He continues to add me to the door list for the Dandy Warhols solo shows in London and Glasgow! Cool :) Making the moment more enjoyable was this mother who came up to me with her daughter seeking my signature as they thought I of all people was "IN" the Dandy's!!!!!

Ahh yes, now for the Saturday show. Pretty much a standard set list by the Dame yet before the show I was informed that this weekend of green magic was indeed being filmed for a DVD release in the new year :)))))))) Bowie knows how to camp it up on stage like none other. His moves are all closely unfolded like a pure perfectionist. Helping the cause is the strong Irish crowd who know how to sing along and make a show brilliant.

The after show party is a blast with some BowieNutters getting themselves into situations they may otherwise not do ;p We drink, parteee and chat till the wee hours of Sunday morning and before we can say "Have you got a fag?" it's Sunday afternoon and it's all about to start once more.

We all feel sluggish by the time we arrive at the venue so I need a pint or four to get myself into the mood as it has been a long stretch now on the road and unlike the Dame I spend my time in cheap hostels with no hot water!

What was to follow was a show that you just had to see to understand the significance of! Bowie, the grand master of ceremonies played for just on 3 hours with 35 songs! Yes boys and girls, 35 bleeding songs and he still, like us wanted more. he played the lot from Fantastic Voyage to Five Years with Slip Away and a stirring rendition of Bring Me The Disco King. Nothing was left to miss.

So here I am now in not so sunny London in wait for yet another show this time at Wembley and with a touch of moondust, more highlights on what has already been a tour to remember!

Ohh, I should point out that I have been doing a few tourist type things in my spare time as well, something I will leave to another email.

In only a few days now I will be back home and back into the heat of an Australian summer. Some how I think the fun will start all over in February when the Oz leg of this tour gets into full swing.

Ra ta-ta for now.


Diamond Dave.
24th November 2003.