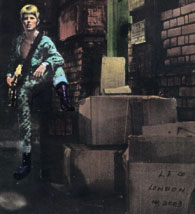 Jim Wilkinson


2010 eh?



A few hours into the New Year, I was emerging from Leicester Square tube station with my mildly bewildered 15-year-old stepdaughter, me a man with a mission, her a little puzzled as to my enthusiasm for the minutiae of the A to Z.

While Millie, armed with gift vouchers and cash, had Oxford Street and sales on her mind, my focus was on finding a slightly more obscure destination just off Regent Street.

Heddon Street, in particular number 23, was a mild disappointment. of course there are no longer any piled-up boxes or dustbins.

No "K West" sign, either and in fact you can't really pose on the doorway because a chic Italian bistro, has, as they are quite entitled to do, placed plants and tables all around.

But the scenario still had the power to cause me a sharp intake of awe and a shiver - for this, as most of you know, was the very scene of a photo-shoot in early 1972 which assisted in the propulsion of David Bowie from well-respected if unpredictable and modest-selling singer-songwriter to rock deity in a few short weeks.

2010. 1972. 38 years ago. Millie 15. Me 51. The numbers game. You can't avoid playing it as you grow older.

In late 1972 I bought The Rise and Fall of Ziggy Stardust and The Spiders From Mars, the album whose cover now adorns Royal Mail stamps as an icon (a criminally overused word but not on this occasion) of British Pop history.

I had been turned onto Starman by a classmate, Keiron, who brought the single into a trendy English teacher's "Juke Box Jury" period.

While earnest pupils at our Lancashire all-boys Grammar School wrote reviews of "A Thing Called Love" by Johnny Cash, "Softly Whispering I Love You" by The Congregation, "Desiderata" and other inconsequential ditties, all I wanted was to befriend the rather strange, tall, other-worldly 13-year-old who had provided us with this startling three minutes of gentle acoustic strumming, mumbling, impossibly seductive lyrics, hooks, dare-you-not-to-sing-along irresistible choruses, previously unheard-of sounds.

Kieron of course, was gay, not that any of us would have known what gay meant had he announced it there and then. We barely knew or believed that homosexuality could possibly exist.

The fact that Bowie's Ziggy masterplan had included the famed Melody Maker "I'm bisexual" interview hadn't registered and would only do so months later in retrospect as matters dawned on us like finding out that maybe Santa doesn't really...

38 years ago it was. When I've been a Ziggy owner for 50 years David will be 75.

In 1972, things that happened 38 years ago had happened before my dad was born.

Records made 38 years before 1972 were made in 1934. There weren't really records then were there? Not 45's, or 33 and a third LP's? Even I knew Elvis was the mid-1950's.

1934 was surely pre-Vera Lynn, Gracie Fields, Frank Sinatra wasn't it? Who could possibly be interested in a record which was made 38 years ago.

As I stood on Heddon Street, imploring patient but unimpressed Millie to snap me as near to the spot, as near to the phone box - I know it isn't the same one! - I resisted the urge to pick up the receiver and ready some coins and dial a friend: "Look, I had to phone someone so I picked on you..."

It was 2010. New Year, New Decade. Still a young century. He stood in this spot. The man who changed my life's direction during an English lesson. The man who changed the world.

It's easy to say that about a lot of people. Hard to provide empirical evidence.

A few days after London I went into my hometown, Preston, on the bus through the snowy streets.

There were guys and girls on the bus with spikey, coloured, pompadoured, teased hair, tattoos, piercings, amazing clothes, long leather coats, boots, buckles, outrageous make-up - you would have been beaten up or put in an institution pre-David Bowie.

He changed my world and the world. And that's without even considering the music.

This week he was 63. 63 in 2010. If you were 63 in 1972 you were born in 1909. I think my late Grandfather was! He was a very old man at 63 in 1972.

I'm 51. I don't feel old, not in some senses. I don't think or I hope I don't feel like an "old man" at 63 - I might have an old man's aches and pains, maybe as Leonard Cohen says, I'll be "in that golden period before the onset of the diseases which prepare the body to die," but in some ways I hope I'll still feel as adventurous and rebellious and free as when I bought Ziggy.

Last week, on my Blackberry phone - yes I can work this stuff - I listened to "Wild Is The Wind" from the Bowie at The Beeb CD3. Beautiful. Perfect. Maybe even better than the original.

With David 63 and semi-retired we may not see him perform with that wondrous band again.

I only saw him six times. Blackburn and Preston 1972, Stafford 1978. Milton Keynes 1983. Roker Park 1987. Maine Road 1990.

Nowhere near enough. Twenty years ago the last time - damn. Damn all the times said I'd go next time. Those last two football stadiums don't even exist any more.

But his relevance and legend must survive.

At 51, I am lucky, or foolish enough to also have a five-year-old daughter, beautiful Olivia. I hope one day she asks me what I used to be like. What I used to do. What I used to like. I hope what I tell her tells her something about the things I loved. At my age, I'm probably too sensible to throw her homework on the fire and I'm definitely not much cop at punching other people's dads.

If she feels as passionate, as captivated, as swept away as I was in that English class in 1972, her life won't be wasted!


© 2010 Jim Wilkinson.
January 2010.