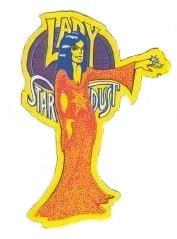 Lady Stardust


THE GLITTER YEARS




My earliest recollection of David Bowie was when my sister brought home the original acoustic version of Space Oddity, which was in about 1969, I would have been just twelve at the time. Whilst listening to this in total darkness we did a 'Lost In Space' dance routine, which involved much flaying of arms to convey hopelessness whilst bumping into portable record player; fibre-optic lamp and bed respectively.

In 1972 when Ziggy Stardust was released it was like a revelation to me; as if this alien being had suddenly landed in our midst and was beckoning us to join him. The Ziggy knitted one-piece caused much consternation amongst my friends who were into David Cassidy and desperately tried to dissuade me. But by then it was too late, I was well and truly hooked.

My biggest regret is not having seen him as Ziggy, but living in darkest Suffolk at the time (where a notice was pinned on a tree if a disco was to take place at the weekend) I had absolutely no chance.

In 1976 I managed to get tickets for the Station To Station tour at Wembley Arena, I think I paid something like £3.50 at the time. I can remember Beethoven's Ninth was playing as we made our way to our seats. Unfortunately, Jordan (who you may remember from the punk film Jubilee) had the seat in front of me and I had to watch the entire performance from behind her beehive hairdo. Suddenly from the darkness I heard his voice sing the words "the return of the thin white duke", and there he was, a tiny speck on the stage in an entirely black and white stark set, save for his flame coloured hair. I managed to go twice on that tour, seats were terrible both times.

The next time I saw him was at Earls Court two years later, and then on the Glass Spider tour at Wembley Stadium in 1987. The last time I saw him was at Docklands Arena in 1990, that was a good one as David was very obliging and did lots of oldies and members of the audience were even shouting out which songs he should do. Each time I have seen him it has been a completely original and theatrical performance and leaves a lasting memory - he really is the Prettiest Star!


Lady Stardust.

22 July 2003.