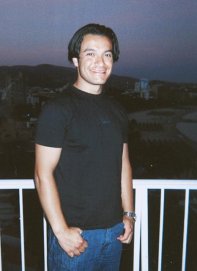 RogerB


I LOOKED AND FROWNED AND THE MONSTER WAS ME



The idea was that the monster in the picture is me, the monster's head is my torso again metaphorically implying that my body has displaced my head, meaning my thoughts at the time were non cerebral and body/self obsessed. Where the head was a body now stands.

Like Bowie's lyric, my picture is about the delayed recognition that the monster was me - I've become the monster, but I had to look and frown before I recognised myself.








Took a lot of work to do the picture, as I did actually stand in the sea at a particular time of year to get the shots, and I Photoshopped it as the waves were more revealing than I had intended.


RogerB.
7th February 2003.