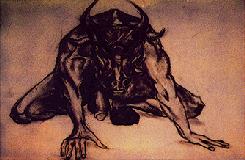 ROMAN





MAYOR OF THE SUNSET STRIP




I had the opportunity to catch the third of three screenings of this film at the Festival International Nouveau Cinema Nouveaux Medias Montreal on October 15th, 2003. This film, completed earlier this year, is a bio pic about Rodney Bingenheimer, a sort of west coast version of Andy Warhol. Although not an artiste like Warhol, Bingenheimer did share an interest in celebrities and an ability to befriend them with Warhol. He also had a sense of the iconic, which enabled him to identify trends early on, if not proclaim them such.

After a chidhood in the Bay area, Bingenheimer moved to L.A. in the Sixties and began hanging around the periphery of the pop music world. His genuine interest in the music, combined with an innocence that separated him from the mass of celebrity hounds got him many secondary TV and film roles with acts like the Mamas and the Papas to the Beach Boys. He tried out for the Monkees, losing out to Davie Jones, but their physical resemblance got him many gigs where a double was needed for this early pop music icon. Bingenheimer starts to develop some reknown in the pop music scene and begins to be seen as a gnomish pied piper figure.

Eventually this led to a job in promotions for the Mercury record label and a meeting with David Bowie in London, followed by his hosting of Bowie during the latter's promotional visit to L.A. in early 1971. Stills from Bingenheimer's party are shown accompanied by Bowie's rendition of "All The Madmen", recorded on this occasion. Bingenheimer became quite knowledgeable about the British pop music scene which led him to open Rodney's British Disco on a suggestion by David Bowie. This small club, known for playing glam rock music and fashions, was patronized by many sexually revolutionised young females and, perhaps not coincidentally, many a visiting pop music celebrity. Bingenheimer himself was not left untouched by adulation from the fairer sex; at one point in the film his successes in this field are favourably compared with those of Robert Plant. The British Disco begins to fade with the arrival of disco music in the mid '70s, a genre that Bingenheimer does not care for. About a year after the club's closing, Bingenheimer accepts a proposal that he become a DJ for L.A. FM powerhouse KROQ. Bingenheimer champions punk and new wave early on, giving many bands their first U.S. radio exposure. The DJ gig will last into the new millennium, although with diminishing airtime and in less desirable timeslots.

Unlike Warhol, Bingenheimer does not get rich from his endeavours. Although fashionably dressed, Bingenheimer drives around L.A. in an old car and lives in a cramped small home, albeit decorated wall-to-wall with pop music memorabilia. Never marrying, he mulls proposing to a noticeably younger looking companion, only to be informed that she already has a boyfriend. This is but one example of Bingenheimer's underdeveloped personality, a trait that the director attributes to Bingenheimer's growing up as a child of divorce and without much in the way of parental guidance. He befriends others in similar situations - notably Kim Foley - often caring for the psychologically fractured, thereby returning the help he feels he received from people such as Sonny & Cher earlier on.

The film has a couple of other Bowie appearances: a 1997 backstage meeting and live performance of "Andy Warhol" early in the film and a 2000 phone-call interview with David Bowie near the film's end where it is Bowie's stardom that appears to be helping Bingenheimer, in sharp contrast to 1971.

A film that begins as a fun romp through the world of L.A. celebrity concludes on a somber note where Bingenheimer admits that his life is not complete and has not been lived without regret.


Roman
17th October 2003.