SABINE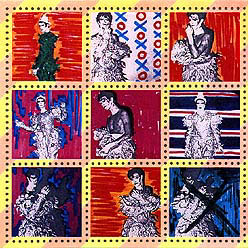 THE FIRST POP SONG...

The first pop song that I ever liked or that meant anything to me was by David Bowie and was called 'Ashes To Ashes', I was about 13 at the time and heard it on the radio of dad's old Toyota.
Something about the rhythm and magic of the lyrics combined with the almost mystic like music appealed to me.
My sister, Tini and I soon met Iain who was a huge Bowie fan and had all of his albums, he even had his hair cut exactly the same way and dressed like him and we thought he was Ziggy incarnated.
All Iain would talk about was David's moment of transformation and how we would all encounter the same experience at one point in our lives. We spent all our time in Iain's bedroom breathing in the music and talking about the persona Ziggy, who had become the most important thing in our lives.
Mum was worried we were on drugs, because Iain's mum was German and didn't sweep things under the carpet like Irish women, and had told her worriedly over her porcelain coffee cup that Iain took drugs.
He never offered us any though and we were just high on the pure fantastic mix of music and words by this fascinating and highly talented man, who had obviously been born a true artist.
Sabine.
11th March 2014.
CLICK HERE
TO CLOSE WINDOW