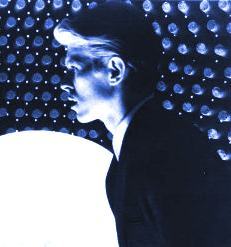 The Stranger

DAVID - AT THE HOP!




OK What am I on about this time? Maybe it's delirium, maybe it's takes being off work ill (low 'white cell' count leading to a virus, so I'm told) to come up with glorious half-baked theories like this...

The saxophones, the backing vocals - live '83 of course.

Tours David has done before and since have embraced German expressionist styles, hints of cabaret, 'hard rock theatre', but The Serious Moonlight Tour was one that for me hints at late '50s teen music! For the visuals think 'Grease', 'American Graffiti', 'The Fonz'(!) etc.

Still think I'm talking twaddle! Well I've been listening to quite a bit of live Serious Moonlight tour stuff recently, and I think I'm on to something here (even if no-one else does). Yes I was too young, but I've seen enough films and heard enough '50s and early '60s music to know there must be a grain of truth in my suggestion.

Now for me, I'm not a big rock 'n' roll fan; I like some Elvis, Buddy, Gene Vincent, etc but for late '50s and early '60s it's often the teen ballads, Dion, and Del Shannon etc sounds I like best. As well as the songs of Goffin and King (which of course spanned the '60s - by the way, ever heard late '60s efforts such as the psychedelic 'Porpoise Song' by The Monkees? - Fantastic! How about 'Wasn't Born To Follow' - not the Byrds pleasant but almost throwaway version, Carole King's group 'The City' gave it an almost anthem-style treatment, covered by Alan Price, then perfected by Dusty Springfield - the latter recorded in '71 but not released until a few years ago. Own up time here, Steve Pafford seeing my writings on Dusty was what prompted him to ask for my opinion on the Bowie reissues).

Anyway, as always, I digress.

Think about the vocal stylings, piano, sax, and the treatments of -

TVC 15 (the sax and piano on the verse)
Star (doo-wop style backing vocals)
I Can't Explain (ditto)
Sorrow (that sax)
Rebel Rebel (the vocal styles, the saxes again)
Golden Years (ditto)
Cracked Actor (even the '40s and '50s here - almost jazz/Glen Miller band stylee on the saxes, and bass)
"Heroes" (that intro may be a traditional (probably) but sounds right out of an early '60s ballad)
Let's Dance (the Twist and Shout 'aahh/aahh/aahh' crescendo)
Wild Is The Wind (late '50s ballad style)
Hang On To Yourself (let's face it, Dave wrote this for Gene Vincent)
The Jean Genie (the finger clicking verse, followed by the r'n'b style chorus)

Of course not all the songs fit this template, but it's still surprising how many do, like I said just listen to the treatment of the songs. However as long ago as '72 I believe a critic suggested that underneath all the 'sci-fi' of 'Ziggy' the backings were reminiscent of '50s/'60s rock (cf 'Drive In Saturday' and 'The Prettiest Star' a year later); and David is/was a big fan of Little Richard, The Beatles, among others...

Even the clothes had more in common with '50s and '60s high school dance styles than anything David's done before or since. What about that Gene Vincent/Jerry Lee Lewis style hair?


The Stranger.
March 12th 2002.