WIN ONE OF TWO LIMITED EDITION, SIGNED ZIGGY STARDUST PRINTS BY MICK ROCK

EXCLUSIVE! FREE TO ENTER COMP NO. 9

It's big... it's well hung... it's Ziggy... it's shot by Mick Rock... it's a signed limited edition... it's bloody gorgeous... and it can be yours... How? Here's how...
This is your opportunity to be one of TWO winners in the BowieWonderworld Number 9 competition. Questions will be added throughout this month, please wait until all questions are added here before sending in your answers. Answer all the questions that appear below and two lucky winners will receive a limited edition, signed Ziggy Stardust print by legendary photographer MICK ROCK worth an incredible £110.
To give everyone an equal chance of winning, please only submit ONE entry. Multiple entries will be immediately disqualified.
(Helpful hint: All the competition answers can be found on this web site or on www.mickrock.com - use the search facility on the title page.
All competition entries with the correct answers will be given an individual number, then 2 entries will be drawn at random to reveal the prize winners.
There will be ONE winner who has a @bowiewonderworld.com email address and one other winner.
This competition ends at midnight (GMT) on Friday 1st June 2001. The webmasters decision is final and no correspondence will be entered into.
Q1: "Which English University did Mick Rock attend?"
A1: Mick studied Modern Languages at Cambridge University.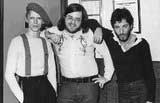 Q2: "Name two of the three people in this photo."
A2: David Bowie, Ed Sciaky and Bruce Springsteen in the hallway of Sigma Sound Studios, Philadelphia, December 1974.
Q3: "Name four promotional videos that Mick Rock has filmed for David Bowie?"
A3: Mick made promotional films for: John I'm Only Dancing, The Jean Genie, Space Oddity (1972 remake), Life On Mars?, Moonage Daydream (unreleased) and Rock 'N' Roll Suicide (unreleased).
Q4: "Where in England was Mick Rock born?"
A4: Mick was born in Shepherd's Bush, West London, England.
Q5: "Who are the publishers of the book 'BLOOD & GLITTER' Glam: An Eyewitness Account' by Mick Rock?"
A5: The publishers of Mick's book 'Blood & Glitter: Glam: An Eyewitness Account are Vision On.
Q6: "Which gallery in London held the Blood & Glitter exhibition recently?"
A6: The 'Blood & Glitter' exhibition was held at Proud Galleries in London.
Congratulations to the winners:
Alan Morgan [alan@morgan.gb.com]
Sandra Atkins [Spidey@bowiewonderworld.com]
And... I decided to award a special bonus prize to ZigDust who was the only person to correctly identify Ed Sciaky pictured with David and Bruce Springsteen in the Sigma Sound Studios photograph. ZigDust go and pick something from the BowieWonderworld Vault be careful it's dark in there ;)
If competitions aren't your thing or you're unlucky not to win one, you can purchase the prints directly through Showcase Editions, call 01242 680012 or e-mail sales@showcaseeditions.com
Check out the official Mick Rock website @ www.mickrock.com.
---



IMPORTANT: Please address all entries DB COMP 9

COMPETITION NOW FINISHED midnight Friday 1st June 2001 (GMT)