Exclusive! David Bowie Print available to friends and visitors of BowieWonderworld

Limited supply! David Bowie self-portrait lino-cut artwork A3 repro print, these are the ORIGINAL remaining stock from 1984. [Some stock still available as of: September 2023]
Heidelberg KOR Lithographic print on gloss art paper, A3 size (29.7 x 42.0 cm) (11.69 x 16.53 in). Printed by Norbury Lockwood & Co. Ltd, Manchester, in a limited edition print run of 750.
I first advertised these for sale via Starzone and Zi Duang Province Bowie fanzines and also the Record Peddler shop in Manchester back in 1984.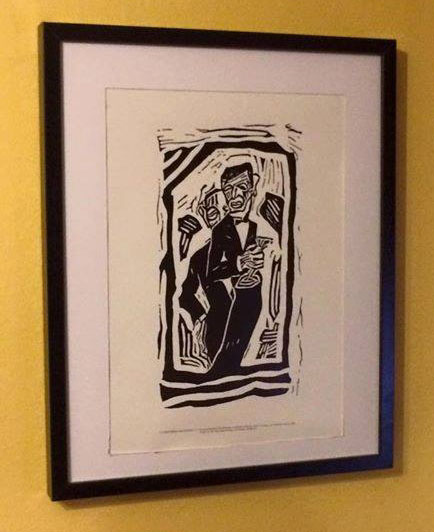 Cherry Tree Lane Productions Ltd at Shepperton Studios purchased one of these prints last year and I'm pleased to announce that it actually appears several times in the brand new sci-fi movie MUTE directed and co-written by his son Duncan Jones (see video clip above).
MUTE had its movie premiere on Netflix on Friday 23rd February 2018.
For more details and information about the Mute movie, visit blog.manmademovies.co.uk and you can also follow @ManMadeMoon on Twitter.
The David Bowie original artwork, created in 1978 during the filming of Just A Gigolo, was exhibited at the New Expressionist Movement exhibition in Berlin on 23rd-25th March 1983.
Although this lino-cut was untitled by Bowie, it is quite obviously a self-portrait, when viewed as a mirror image.
A test lino-cut print was on display in the 'David Bowie Is' exhibition in Berlin. (See below)...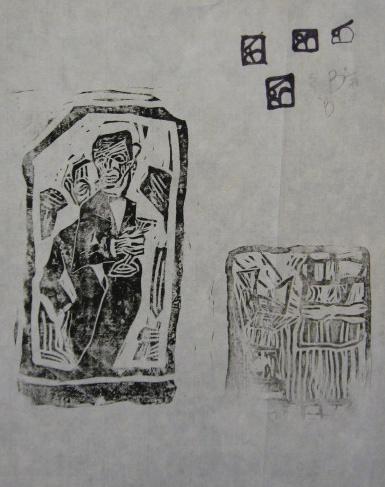 Notice that in the top right hand corner, David has experimented with different logo 'Bo' signatures. Here, he is attempting to copy the unique style of German Expressionist artist Erich Heckel's famous signature on his woodcuts and artwork.
Update: My friend Mark Adams (aka Total Blam Blam of davidbowie.com) told me years back that he had one of these prints personally signed by David in his archive. The other month he kindly dug it out for me to see. I'm over the moon to see that David approved and actually signed it back in 1994.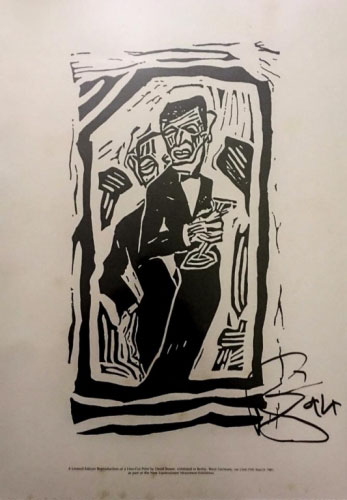 Helpful advice: Several enquiries from people in the USA and Canada have asked about the A3 size of this print and which size frame they should buy, as A3 isn't a normal/commonly used size in their countries.
One suggestion is to go to Ikea and see the RIBBA picture frames. Two sizes work well - the best is the 16" x 20" size priced at $9.99 - it has a black frame and a white mount. The print fits perfectly in this frame. (See photos at the top of this page).
If you use the smaller next size down RIBBA frame - for this you will have to remove the white mount and trim the print slightly top and bottom to fit.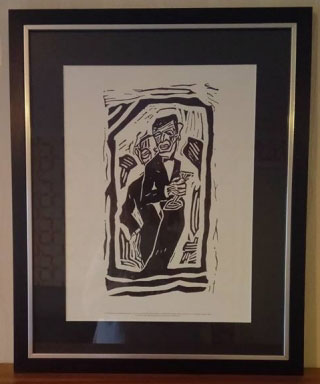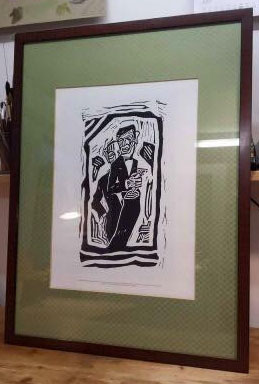 This print is exclusive to visitors and friends of this website.
The total price including postage and packaging is:
£22.49 - UK
£26.55 - Europe Zone 1: (Republic of Ireland, France, Germany, Denmark)
£26.70 - Europe Zone 2: (Austria, Belgium, Italy, Netherlands, Portugal, Spain, Sweden)
£27.40 - Europe Zone 3: (Gibraltar, Iceland, Norway, Switzerland)
£30.35 - World Zone 1: (Canada, South America, Africa, China, Japan)
£31.25 - World Zone 2: (Australia, New Zealand, Singapore)
£31.95 - World Zone 3: (USA)
If your country is not listed, please check royalmail.com website for countries and zones.
Please let me know in which country you are located. (Note: If you want to save on postage costs, I can send a maximum of 3 prints per postal tube).
All monies raised go directly to the running costs of bowiewonderworld.com
Please contact me at for more details - thank you for your support.