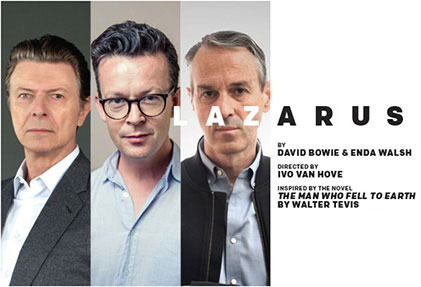 Lazarus - Casting Call
New York Theatre Workshop Auditions
CASTING CALL - Posted: May 20th 2015.
Lazarus is a musical from the New York Theatre Workshop.
Lazarus is a production by David Bowie and Enda Walsh. It is inspired by the novel, The Man Who Fell to Earth by Walter Tevis. The play will feature songs composed by Bowie as well as other arrangements of previously recorded songs.
Company:
New York Theatre Workshop, New York, NY
Date of Audition: 3rd June 2015.
Call Type
Equity Principal
Time(s)
Equity Principal Auditions (3 days)
Wednesday, June 3rd, 2015
Thursday, June 4th, 2015
Friday, June 5th, 2015
10 AM to 6 PM each day. Lunch 1:30 to 2:30
Contract
Off Broadway
$593/week
Location
Pearl Studios NYC "519", 519 8th Avenue, 12th Floor, New York, NY
Seeking
Equity actor/singers for various roles.
See breakdown for more info.
Preparation
Prepare a brief rock/contemporary song that shows your style and vocal range. Bring sheet music; a piano accompanist will be provided.
Bring picture and resume.
Other Dates
First rehearsal: October 13th, 2015.
First preview: November 18th, 2015.
Opening: December 7th, 2015.
Scheduled closing: January 3rd, 2016.
Possible extension thru: January 17th, 2016.
Personnel
Music and Lyrics: David Bowie.
Book: Enda Walsh.
Director: Ivo van Hove.
Music Director: Henry Hey.
Casting: Telsey + Company; Bernard Telsey, CSA; Andrew Femenella, CSA
- EPA Rules are in effect.
- A monitor will be provided.
Performers of all ethnic and racial background are encouraged to attend.
Always bring your Equity Membership Card to auditions.
AVAILABLE ROLES:
VALENTINE: | Male | Age 18+ | All Ethnicities.
The most ordinary of men - a person seemingly with little confidence - physically withdrawn to the point of invisibility. A loner who is in search of a friend - for some love - for a cause. But a man who is unable to edit his opinion and function as a 'normal' person. Psychotic.
GIRL: | Female | Age 18+ | All Ethnicities.
A teenage girl with no knowledge of who she is - or how she has arrived in New York. A forthright soul whose work is to help Newton escape and offer him a hope - she becomes Newton's surrogate daughter. For all her activity and encouragement - she is lost - and searching for her past. She learns she is dead.
ELLY: | Female | Age 30-34 | All Ethnicities.
A woman in her early 30s who has recently started work as Newton's assistant. She has continually changed projects, jobs and lifestyles - and subsequently sees herself as an eternal failure. Angry with a vicious wit - she's locked into a bickering relationship which perversely gives her purpose. Tortured, complex and longing for love - in a short period of time - she will lose her mind.
ZACH: | Male | Age 34-37 | All Ethnicities.
A man in his mid 30s and tied to Elly in a loveless antagonistic marriage. He works in Information Technology - and would desperately want that all humans could be a little bit more machine. Humour has brought himself and Elly together - but now each funny exchange is an attack. He is exhausted - but is too cowardly to end their relationship.
BEN: | Male | Age 26-34 | All Ethnicities.
Late 20s-mid 30s, a city professional - young and ultra confident. A kindly alpha male with real swagger and bonhomie - he's to be married in 2 weeks time. We meet him in a moment of pure happiness.
MAEMI: | Female | Age 26-34 | All Ethnicities.
Late 20s-mid 30s, engaged to Ben - and she herself a city professional. She's parked all that professionalism and we find her aglow with love.
THE MAN: | Male | Age 18+ | All Ethnicities.
A calm, midwestern dentist who lives the quiet life with his wife and dog in their little town. Mannerly and controlled - he's murdered a child.
MEGAN: | Female | Age 18+ | All Ethnicities.
18+ to play late teens - she carries a dark energy - a real toughness. A girl unhappy in her own skin. We meet her at a time when she's gaining power - her steel hardening. A dead girl.
LILA: | Female | Age 18+ | All Ethnicities.
18+ to play late teens - consistently wide-eyed and happy. She enthusiastically throws herself into things. Perhaps not the cleverest of these girls - she's certainly the most fun. A dead girl.
The following roles have been CAST:
NEWTON: | Male | Age 18+ | All Ethnicities.
A man of indefinable age - once a powerful business mind - now reclusive, erratic - and spiraling fast into madness. He's hidden away in his chaotic apartment. A heartbroken soul - haunted by a lost love - a man who desperately wants peace. He's not from our world. THIS ROLE IS CAST - (Michael C. Hall).
MICHAEL: | Male | Age 18+ | All Ethnicities.
Newton's only friend - a man who seems friendless himself. He's married to his career - to various mergers and acquisitions. He's reached the point of burnout - where he wants again to rekindle his friendship with Newton who he genuinely cares for. We meet him at this moment of change - but moments before his catastrophe. THIS ROLE IS CAST - (Charlie Pollock).
RUBY: | Female | Age 18+ | All Ethnicities.
18+ to play late teens - an affable and intelligent girl - who manages to keep the balance between the 4 teenage girls on stage. She has a calm purpose. A dead girl. THIS ROLE IS CAST - (Krystina Alabado).
New York Theatre Workshop
Broadway World
Backstage
The IT Factor Productions
CLICK HERE
TO CLOSE WINDOW