WHEN I LIVE MY DREAM
An Interview with Alex Clarke
A couple of weeks after my meeting with Ade Berry, I was lucky enough to interview Alex Clarke, the young actor who will be playing Martin, the central character of 'From Ibiza to the Norfolk Broads', Berry's new play about a teenage Bowie obsessive. Freshly returned from a lads' holiday, not in Ibiza, but in Tenerife, Alex told me about his preparation for the part;


"I'm not a huge Bowie fan, I don't own any of his albums, but my Dad does and I absolutely love his music, I think he's a very, very talented man. I was reading Loving The Alien on holiday which gave me a good introduction to his life. The amount of songs that he's written that I actually recognised but didn't know as being by him surprised me. I didn't really know much about Bowie before reading the play, but I knew his music and saw him in Labyrinth."
Like most people of nineteen, Alex's taste in music is quite varied, ranging from R.E.M. and Ocean Colour Scene in his more reflective moments to garage, hardcore and house when he's going out. But he points out that unlike Martin he hasn't any one type of music or artist that he loves exclusively...
"I find it difficult to relate to him in the sense that he's obsessed with someone, because I've never been obsessed with anyone, I've never idolised a singer or an actor, or anything like that." Ade commented that using a ready-made Bowie crony would have been a bad idea and Alex's lack of knowledge about Bowie is a good thing;
"It would have been difficult working with someone who knew everything, because the whole point is that they're actors; you can't direct somebody that knows more than you. It's been good because I've been able to feed my thoughts and interpretations of Bowie onto him. He's got to understand what it is to be obsessed with anybody." In return, Alex added that although he doesn't know what it's like to be an obsessive, he's managed to draw on his own hard times to aid his characterisation;
"Martin's obsession with David Bowie has come through his father rather than his love of Bowie himself. He's trained his mind to love Bowie. He's conditioned himself to know his songs, to read his books, to wear his clothes, but I think it all comes from the loss of his father. I can understand him when he talks about being lonely and depressed. I've gone through stages in my life where I don't think anybody cares or that I'm on my own and I can only turn to myself; that part of the character I can relate to."
The plot itself centres around Martin's relationships with the women in his life; Lulu and Becky, who he shares a room with, his sister Angie and his mother. All these characters are extremely troubled in one way or another, but Martin finds some comfort from Nancy, an elderly care worker who dotes on Martin and loves him dearly. "She is an absolute diamond, she's warm, caring and affectionate, but she's still sturdy and gives Martin discipline as well as someone to confide in. She's like a mother figure to him." Alex has worked with Margaret Campbell (who plays Nancy) before, while acting in Donă Rosita at The Famous Grouse House at the Edinburgh Festival last year and he is pleased to be working with her again. "She's just like her character, she's so caring and loving."
Unlike a hardcore Bowie fan, Alex isn't afraid to criticise the man himself and shows that he has been doing his homework;
"The one thing I don't admire David Bowie for is the fact that he kept changing his character because he wasn't happy with himself, to try and please other people. I think that his music is brilliant but the characters he played like Ziggy Stardust and The Thin White Duke were a bit strange. I imagine, being an alcoholic and having been on drugs, he was so messed up that he thought all the different characters could portray different sides of him." Ade also commented on Bowie's constant reconstructions of himself in relationship to the character of Martin;
"Whereas someone like Bowie can take a step back from himself and look in and see what he 'is', Martin isn't able to step back and look at himself, he's very insular. His whole world is himself and his fantasies. It's hard to say how much of Bowie's re-invention of himself is calculated, but Martin chooses and contrives a facade so he doesn't have to deal with the real things in life. You're not even sure if he really likes Bowie."
The self-consciousness that Bowie has obviously used throughout his career is something that is also present in Martin, leading him to have a dual nature...
"When he's on his own and he's writing a letter to Bowie, or talking to Bowie, he goes into dream sequences where he can be himself, quite extrovert, but when he snaps back into real life, he's really shy and subdued and doesn't want anybody to talk to him, look at him, or even regard him as being there. He sees Bowie as a father figure; Bowie's music and inspiration was the only thing Martin had to confide in, he found himself when he was listening to Bowie."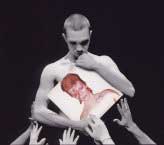 However, by the end of the play, we are left wondering what the obsession really has meant to Martin. There are a couple of dramatic twists (which I daren't reveal), but by the end, we are left wondering where he will go next. The impact of the narrative had a strong effect on Alex;
"It is a very powerful play, I was close to tears when I first read it. The play has changed so much since we first did it, it was more of a comedy, it's still funny now, but it's become a lot darker and more adult, with the focus on all the characters equally." With this new version, "Ade has got straight to the point, he hasn't beaten around the bush."
Alex has found the part a huge challenge, but has used his own experiences to help him find the character;
"Martin is completely different to me as a person, I'm more like how Martin acts in his dreams, an extrovert. As an actor it's comforting having the fantasy scenes because you can suddenly go up to heights you would never believe, it gives a lot of variation to the play. When he's subdued and shy, it's hard because I'm not used to that.
I think back to when I was younger, going through the first few years of school, when I felt that no-one wanted to know me, I didn't want to know anyone else and I just wanted to be on my own; then I can relate to him. I'm constantly having a mental battle with myself when I'm playing the character."
"Martin seems like a sad, lonely individual with no friends, no ambitions and no future. That's how he wants to be portrayed, but once you get inside the character, he's very sensitive, he has a side to him which is very outgoing and lively. He's a nice bloke underneath the hard shell he's put around himself because of the traumas he's had in his life."
Although Alex sees himself as being very different to Martin, he certainly has a stubborn streak which has lead him to be determined about his acting career...
"My Mum loves the idea of me being an actor, but my Dad, although he's helping me out, doesn't see it as a proper career. He thinks I should be an accountant or something and get money behind me, get a sturdy job and bring up a family, but it's not what I want to do. I want to be an actor and I'm going to be an actor."
A North Finchley boy born and bred, Alex first got into acting at a young age, playing Nathan Detroit in a school production of Guys and Dolls. He then featured in numerous other plays and musicals at school and college, including Cabaret, Little Shop of Horrors, Stags and Hens and Macbeth as well being the subject of an I.T.V. documentary when he was seventeen. He has worked with Finchley Youth Theatre and the youth theatre headed by Ade Berry at The Bull Theatre for two years. Alex played Martin in the first workshop production of From Ibiza to the Norfolk Broads and after Ade was approached by Camden People's Theatre to put a show on there, he was offered the part again, a chance he was keen to take up;
"Ade's brilliant, I respect him and I've loved working with him in the past, but working on From Ibiza to the Norfolk Broads, I've got to know him a lot better and I admire him so much more. He gives you a lot of chances to express yourself and feel for the character rather than being 'directed' as such. Because I've worked with him for two years I find it really easy to work with him, I've got to know him as a person, not only is he a director, he's a friend. I'd definitely like to work with him again."
Having recently completed his B.T.E.C. National Diploma in Performing Arts, Alex is now preparing to study a degree in Drama at Rose Bruford, a Drama school in London. He hopes to audition for the National Youth Theatre and would eventually like to be a professional actor in West End shows or to teach Drama. A young man with plenty of ambition, and I'm sure, a lot of talent!
By Marcus Reeves ©2000.



| | |
| --- | --- |
| Created: July 2000 © Paul Kinder | Last Updated: 30/7/00 |