YOU ARE ALWAYS ON MY MIND...
Review by Spud

As most of you well know, seeing db live is an experience to savour. Having to describe the experience is a very difficult task. After all, how do you put into words what words cannot describe? So forgive me if I rant, or dribble, or - erm - come, but I have to tell you about it one way or another.
So, my friend and I had secured our tickets for Glastonbury some weeks previous and the countdown was on until the weekend arrived. Then, words spread like Laryngitis that db was to appear on TFI on that very weekend. What a bonus, a chance to see the Man perform a few numbers in the studio would serve as a nice little warm-up before he would melt Glastonbury into a heap of post coital exhaustion. And with that, a chance to meet some fellow BNutters to boot.
On arrival at the Riverside Studios, we made straight for the pub opposite to cool the innards on a lovely summer's day. The place was already buzzing with db fans, and it was nice to finally re-meet people who I knew but have never met before (you know what I mean don't you!).
Into the studio and those fans that had been there before knew exactly what to do. Ignore all instructions and pleas from the TFI crew and stay in your place no matter what. We sneakily settled into the area at the back next to Straffer, Zimmo, Rednik and Dawn and waited. I was dying to see db walk onto the stage as he brings with him an atmosphere which could be described as 'f**k!'
However, I had to move slightly as a technician jostled with cables and when I turned back around he was already on stage. F**k, missed the walk-on.
'Wild Is The Wind' to start with. Breath-taking. When you go through periods with each album you always imagine him singing certain tracks live. In the past I have longed to hear both 'Word On A Wing' and 'W.I.T.W.' because of the sheer emotion that he puts into the songs. I was fortunate enough to hear the former last year in Paris and now this particular dream was complete. 'Starman' to follow, and I couldn't help thinking about the T.O.T.P. performance. The 'Cracked Actor' and 'Absolute Beginners' were also beautifully performed and we left the studio with extra large grins and re-entered the pub to extra large gins. Well worth missing the first day of Glastonbury for.
After a rather long journey which included an three hour breakdown on the train and a taxi ride from Bath to Glastonbury (courtesy of Great Western Railways) we finally arrived at the festival at around 2.00 am where we settled down under the stars in our survival bags (no tent, just lots of drink).
Saturday came and went in a sun-drenched and alcohol fuelled blur because I had found the internet tent and checked to find out if I had been fortunate enough to secure a place in the very select audience for the BBC show the following Tuesday. I was elated. It was all a bit much to take in and I was on a high from that moment on, but also very nervous, as I could not print the email off to gain entry. Cue some frantic phone calls and message board screams for help. My train ticket back to Newcastle was for Monday night but I thought 'sod it, I'll walk home if I have to'.
On the Sunday we went over to the Pyramid stage to get a decent spot. We were welcomed by Willie Nelson singing 'You Are Always On My Mind'. Cheers Willie.
The crowd began to pack as The Happy Mondays took to the stage and it really got a bit wild when a very attractive and completely naked girl was welcomed on stage to sing along with them. I was singing too - 'You Are Always On My Mind'.
Embrace followed and the crowds were beginning to get seriously compressed as the sun began to set on another glorious day. Surfers battered everyone in their way to be helped over and out of the crowd. I was centre stage and two from the front, situated just behind a young girl and next to a mountain of a bloke who was the only person there able to stand his ground as the swaying, sweating hoards began to chant for 'The Man'. At one point a girl was passed over the crowd wearing a very short skirt and G-string beneath. As she was passed over my head I was almost tempted to sink my teeth into the curvy bumcake hovering overhead. But I pulled myself together and sang 'You Are Almost On My Mind' Cheers Willy.
Not long now. The masses were baying for db. Water was thrown onto fans to cool them down.
Suddenly the time was now. Mike Garson settled behind the keyboards. The rest of the band took up their instruments and began to play the enchanting intro to W.I.T.W. And then it happened, that walk onto the stage by David Bowie, a cool saunter. His hair long and swaying and the frock coat sweeping away almost thirty years. I swear I could smell Afghan coats and patchouli oil. There is only one man walking this earth who can make extra long cuffs hanging below the sleeves of a jacket look cool and acceptable and he was stood not twenty yards from me. "Love me love me love me love me saay you do!"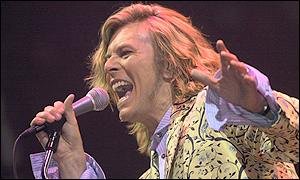 I can't put my finger on it. Perhaps that's the engaging thing. I can understand why women scream at the Man, I can understand why men who are attracted to men scream out to the Man. What I cannot understand is how the Man makes me feel on one hand like a besotted schoolgirl (bear in mind that I am an overweight, bearded, 36 year old heterosexual, married with four children) and on the other like a child on Chrismas morning. Dear me, when WILL I grow up?
A crowd pleasing greatest hits set followed. He looked, and sang, and walked, and talked, and smiled, and danced, and just breathed, totally and absolutely, like some God given creation sent to wipe away all your troubles and lift you onto another plane for the duration of the performance (and beyond, when you live it all again in your mind). He changed into a more sober dark jacket with a blue crew neck jumper beneath during Earl's 'Stay' and rocked the crowd along with millions back at home. He's enjoying himself. Smiley Dave.
And then he was gone. 'Encore' We wait... 'Encore'
The stage was steeped in a dark, purple light. The band once again moved in under the darkness and took up their positions. Steam rose from the crowd, and then the opening guitar riff to 'Ziggy' filled the air. A silhouette leant on Mr. Garson's keyboards (or was it a phone box?) drawing on a cigarette and the blue smoke filtering up into the lighting stack. How long had I waited to hear this? A lifetime. Too young to go to the Ziggy shows I had sat and listened open mouthed to my older brother who had told me about the gig back in '73. My turn now. Once again he walked through the air to the mic and as he hits that opening note his mouth is barely open. A familiar pose midway through, one foot forward, back leg straight as he gave the song to us. I was jelly. The mountain next to me was moved. And finally the perfect Ziggy pose as the final bars rang out. All he needed was the cloak and for the girls to come onstage and rip it away. This is about as near as I'll ever get to Ziggy Stardust.
I'm nothing now. All I am is a pair of eyes drinking in all I can get. "Heroes" kicks off with a lovely little guitar riff thrown in. It's one of my (many) all time favourites and moves me every time. 'Lets Dance' has been given a new look also. Starting off real slow and then kicking in and sending the crowd crazy. I lost my boots to this one but by some strange fluke managed to squeeze my feet back into then without looking down. When db left the stage and the crowd began to ease off. Reality hit home and I was totally exhausted by the performance. I eventually saw my mate and hobbled over to him. How I walked in those red stilettos I'll never know. But the young girl who had been in front of me really suited those boots!
Glastonbury was over. On the Monday morning we caught the train back to London and made our way to meet a friend who said he would put us up for the night considering I had decided to stay longer than expected. I was on a high from Glastonbury and I still had the BBC thing to come. I decided to calm myself down by drinking large amounts of alcohol and chewing my bottom lip.
Tuesday arrived, I put my mate on the bus home to Newcastle (he had also decided to stay the extra night, just for the crack) and I made my way over to Broadcasting House. It was around tea-time and so I decided to visit one of the local Inn's to sample their wares.
I still didn't have the email and I was a bit panicky. Then I saw Steph at the pub and she smiled and said "I've got something for you".
'It's either a nappy or my email' I thought.
After meeting up with a few more fans, we made our way to the venue. I gave my name to the bloke on the door and he said "Mmm, second row, enjoy the show sir" I just gave a pathetic smirk and said "Ababannnmef.bibiblll."
On entering I was astonished to see how small the place was. A very nice art deco building with only a small amount of seats. This was going to be a very personal show. There was no stage, only a small step up and the band would all be on the same level as the audience. I found my seat and sank into it. I was beginning to shake. db's mic was little more than twenty feet away from me. I decided to phone my wife for some much needed calming down so I took out my mobile. It was nice to hear her voice, very reassuring "Hallo" she said "Is that you Mark?"
"Mmimi, abbibibannammeefufff."
"Calm down, phone me later you silly sod. Just relax and enjoy it, okay?"
"Ohmimimmminnnbubble." I hung up.

As the place filled up you could see how thrilled people were. People who have seen the Man dozens, if not hundreds of times were getting very excited about this gig. At one point I turned around to check out the crowd behind me and as I glanced up at the small balcony area I could see Bob Geldof and other celebrities chatting. Poor souls, way back there. Hehe. After being briefed by some fellow about how to clap and to turn off all mobiles the place went quiet and after a lifetime the band filled the small stage.
Yeah, I know I keep going on about it, but "the walk on". F**k!
This is the closest, most personal performance I have ever witnessed. Speaking to Steph the other night in chat she described it as 'real'. I couldn't express it any better. When you can actually see his eyes and make out the glances and see who he is smiling at. It is, very real. I was fascinated and moved by the whole performance. Smiley Dave as raconteur, mimic, comedian, human being (Eh? Can't be true!) will live with me forever. Oh, and by the way, songs that buckled me were 'Always Crashing', 'Survive', 'London Boys', "Heroes". I could go on but you'll see the performance anyway so I won't spoil it for you. After the show I went outside, numb. The two previous gigs that I had seen that weekend seemed like foreplay compared to the full on, in your face performance that I had just watched. I decided to phone the wife and tell her all about it.
"Hallo? Is that you?"
"Flibl flibl fliffbublif."
"Oh f**k off you bloody idiot!"
I don't suppose that the 'reality' will come across on television, but believe me, he is real, honest!
By Spud (Mark)
2nd July 2000



| | |
| --- | --- |
| Created: July 2000 © Paul Kinder | Last Updated: 6/7/00 |