ALASSIN SANE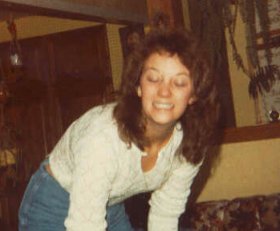 Alassin Sane aka "Sharron"
A lass in sane - get it? It ain't no typo.
PROFILE:
Sex:
Yes Please!
Age:
Discreetly over 21.
Birthday:
May the 13th (falling on Fridays is best).
Where do you live?
Southern Colorado, USA (beautiful moutain valley).
Email:
alassin_sane@coyotenet.net
Your favourite David Bowie album?
Hunky Dory, The Man Who Sold the World, Young Americans, Aladdin Sane, 'hours...' (to start).
Your favourite David Bowie song?
'Can You Hear Me?', 'Sound & Vision', 'Word On A Wing', 'Beat Of Your Drum', 'Life On Mars?'. 'Starman', 'Always Crashing In The Same Car' (Was that more than one?????).
Most embarrassing experience:
The night I actually came in contact with the creature who puts all your knives where your forks should be in that lastic divider and leaves all your LP's out of the sleeves... it was frightning and I was wearing that little schoolgirl outfit doing cartwheels... oh wait... that was my dream last night. Aparrently THIS is my most embarrassing moment.
Most memorable experiences:
The birth of my son.
The day my son returned home from 3 years with his father in rural Tennessee (seeing him with his bright red mohawk knowing he just left the very conservative farmland was priceless... he gave the 'good ole boys' of Tennessee a real run for their money!).
Selling my first short story... :)
Awaking up every day is pretty memorable as well.

Best Bowie gigs been to:
Sound + Vision, Denver CO.
Favourite Bowie event you've been to?
I have never had the pleasure.
Favourite beverage?
My home made Kahula, Bacardi and Coke, Pepsi one.
Favourite food?
Spaghetti, pizza and anything that goes with smashed potatoes.
Favourite sexual position?
Yes, I have had several.
Name one thing that you completely hate?
LIARS.
Describe David Bowie in one word?
INCREDIBLYTALENTEDGENIUS
CLICK HERE
TO CLOSE WINDOW