ANGELA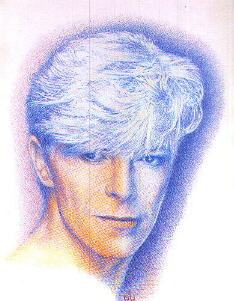 Angela - aka "BowieFreak"
PROFILE:
Sex:
Alien.
Age:
14.
Birthday:
3-5-88.
Where do you live?
Texas, USA.
Email:
bowiefreak1984@bowiewonderworld.com
Your favourite David Bowie album?
'hours...'
Your favourite David Bowie song?
Soul Love.
Most embarrassing experience:
Walking around school with my zipper undone. And when I found out I said it was a fasion statment. It didn't work! but I know it would for BOWIE!
Most memorable experiences:
Seeing and hearing my beloved BOWIE sing for the first time! HE IS SO SEXY! THERE ARE NO WORDS TO DESCRIBE HIM WITH! GOD MAYBE!
Best Bowie gigs been to:
SADLY I'VE NEVER BEEN TO ANY! But I hope he comes to Dallas this summer!
Favourite Bowie event you've been to?
-
Favourite beverage?
Iced tea and green tea!
Favourite food?
What's BOWIE's fav?! Whatever he likes I like!
Favourite sexual position?
I'm 14! But if I did have one it would be in BOWIE's arms! Mean IMAN!
Name one thing that you completely hate?
People Who HATE BOWIE! My friends make fun of him, I'm thinking about not talking to them any more! I know UNTHINKABLE to BE FRIENDS WITH SUCH MEAN PEOPLE!
Describe David Bowie in one word?
GOD!
CLICK HERE
TO CLOSE WINDOW