BAZ DEDHEVAN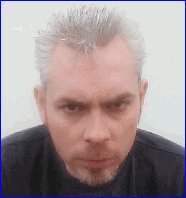 Baz
PROFILE:
Sex:
Alien.
Age:
33.
Birthday:
11th January 1969.
Where do you live?
Essex.
Email:
baz@deadheaven.co.uk
Your favourite David Bowie album?
Ziggy Stardust.
Your favourite David Bowie song?
Moonage Daydream.
Most embarrassing experience:
Chatting up a girl - pretending that I was Sean from CUDDLY TOYS, only to be told that the girl I was chatting up was Sean's ex-girlfriend!!!
Most memorable experiences:
My wedding day, the birth of my daughter Alannah, Rebel Rebel on TV, oh.... it's all too much.
Best Bowie gigs been to:
Wembley Outside Tour.
Favourite Bowie event you've been to?
Besides the Wembley gig, it has to be seeing Little Wonder. And also - having a bit-part in Buddha of Suburbia.
Favourite beverage?
Boddingtons.
Favourite food?
Hot Dogs.
Favourite sexual position?
Any, with a female.
Name one thing that you completely hate?
Morrissey
Describe David Bowie in one word?
God.
CLICK HERE
TO CLOSE WINDOW