CADY HARRISON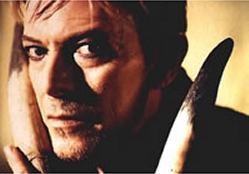 Cady Harrison
PROFILE:
Sex:
Girl.
Age:
Work it out.
Birthday:
14th February 1989.
Where do you live?
New York.
Email:

Your favourite David Bowie album?
Labyrinth soundtrack.
Your favourite David Bowie song?
Young Americans and All The Young Dudes.
Most embarrassing experience:
Don't have one.
Most memorable experiences:
nvm.
Best Bowie gigs been to:
IOW concert.
Favourite Bowie event you've been to?
As above.
Favourite beverage?
Cola.
Favourite food?
Apple.
Favourite sexual position?
Errrrrrrrrrrmmmmmmmmmm.............
Name one thing that you completely hate?
I can't marry him! Why didn't your mum give birth to you later???? :(
Describe David Bowie in one word?
HOTcuteSEXY.
CLICK HERE
TO CLOSE WINDOW