CANDIDATE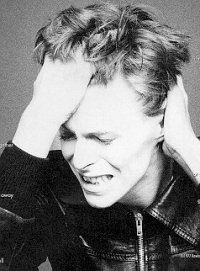 Candidate - aka "Candi"
Candi is one of the anomalies of BowieWonderworld. While she totally hates Christmas, she is in fact one of the sweetest people on the MB!
Rumour has it she's going to try for a spot with the Happy Twins, Susans and Spaceface, and this might just happen if Susans continues to spend her days buying rare and exotic Bowie stuff on eBay!
Candi is known for having a tipple of two from time to time, but it never interferes with her posting on the Message Board
PROFILE:
Sex:
Female.
Age:
35.
Birthday:
December 12th.
Where do you live?
Pennsylvania, USA.
Email:
thecandidate@davidbowie.com
Your favourite David Bowie album?
Diamond Dogs.
Your favourite David Bowie song?
Sweet Thing/Candidate.
Most embarrassing experience:
Probably when I fell on my face at the Bowie Kit Kat gig amongst the swarming crowd... and I wasn't even drinking! LOL
Most memorable experiences:
Hmmmm... Bowie related of course...being up so close to the stage at Kit Kat and also Tin Machine gigs! Seeing David outside of the Kit Kat in NYC only just a few feet away! A moment I will not soon forget!
Best Bowie gigs been to:
So hard to say but probably Kit Kat, Roseland as well as Outside Tour, then again Greatest Hits Sound and Vision... I could go on...
Favourite Bowie event you've been to?
Hmmmmm.
Favourite beverage?
Merlot.
Favourite food?
Pasta.
Favourite sexual position?
Eeek!!!!!! I'm in enough trouble... I'm preggers ya' know! LOL!!!
Name one thing that you completely hate?
Can I name a few? Christmas, people who spit in public and overtalkative people who chew your ear off!
Describe David Bowie in one word?
Brilliant!!! Genious!!! Amazing!!! Sorry... One word can not describe the man!!!!
CLICK HERE
TO CLOSE WINDOW