DANCING QUEEN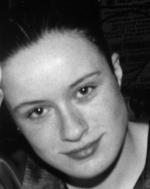 Dancing Queen
PROFILE:
Sex:
Female.
Age:
19.
Birthday:
8th February.
Where do you live?
Creepy Crawley.
Email:
ella@saunders-1.demon.co.uk
Your favourite David Bowie album?
Outside.
Your favourite David Bowie song?
We All Go Through.
Most embarrassing experience:
-
Most memorable experiences:
Seeing one of my idols for one being Michael Jackson.
Meeting Aleczandah.
Graduating from college.
Best Bowie gigs been to:
Never been to any.
Favourite Bowie event you've been to?
Have not been to any.
Favourite beverage?
Peppermint Tea.
Favourite food?
Anything exotic.
Favourite sexual position?
No preference.
Name one thing that you completely hate?
Brussel Sprouts!!!!!!!!!!
Describe David Bowie in one word?
Gentleman.
CLICK HERE
TO CLOSE WINDOW