DANNI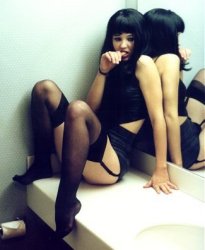 Danni - aka "Daniella"
PROFILE:
Sex:
Grrrrl.
Age:
23.
Birthday:
August 18th.
Where do you live?
Not far from Leeds, Yorkshire.
Email:

Your favourite David Bowie album?
All of them!
Your favourite David Bowie song?
Amazing, Video Crime, Something In The Air, Survive and Rebel Rebel.
Most embarrassing experience:
My mini skirt tucked in see through knickers after walking out of trendy clothes shop in Leeds city centre. My dickhead of a boyfriend at the time thought I'd done it completely on purpose.
Most memorable experiences:
Winning a competition in The Face magazine, meeting David at Virgin shop, joining drama school (best thing I ever did).
Best Bowie gigs been to:
Outside NEC Birmingham 1995, Astoria and Glasto 2000.
Favourite Bowie event you've been to?
The Virgin record shop signing in London.
Favourite beverage?
Vodka, Black Russian.
Favourite food?
Pasta.
Favourite sexual position?
Definitely doggy.
Name one thing that you completely hate?
Shallow people.
Describe David Bowie in one word?
Sexonlegs.
CLICK HERE
TO CLOSE WINDOW