DASHA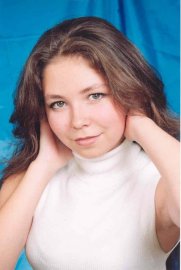 Dasha - aka "KellyJean"
PROFILE:
Sex:
Girl.
Age:
14.
Birthday:
7th October.
Where do you live?
Ukraine.
Email:
kellyjean@teenagewildlife.com
Your favourite David Bowie album?
All of them! but especially "Diamond Dogs", "Aladdin Sane" and "Hours...."
Your favourite David Bowie song?
Some Are.
Most embarrassing experience:
Didn't have any...
Most memorable experiences:
Hmmm! I guess when I saw Bowie.
Best Bowie gigs been to:
Never been to any!!!.
Favourite Bowie event you've been to?
I'd like to! but Bowie doesn't come to our country.
Favourite beverage?
=---0--.
Favourite food?
Japanese.
Name one thing that you completely hate?
Britney Spears and Britney again!
Describe David Bowie in one word?
Air
CLICK HERE
TO CLOSE WINDOW