DAVE THE OWL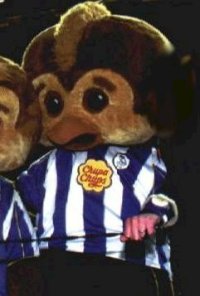 Dave the Owl - aka "Footie Man"
Dave is the resident footie expert on the boards of BowieWonderworld. Without his expert knowledge and awesome play by play posts, no one would ever know what is going on! Dave is truly the wise owl.
He's also known to attend many of the coolest concerts around and bringing back great anecdotal stories that make you feel like you're right there with him.
(Supplement from Caligula)...
You may think you know Dave The Owl but I would be doing my fellow Bowie fans an injustice if I did not dispell some of the myths that he has surrounded himself. Here are ten things that you didn't know about our feathered friend:
1. He says he is of pure Yorkshire stock, yet was in fact discovered abandoned at three days old beneath a bush in Merseyside's Stanley Park, equidistant between the Liverpool and Everton soccer stadia.
2. He claims to have seen Bowie in concert dozens of times. However, among the serial Bowie concert goers, he has only ever been spotted at one gig: Milton Keynes Bowl in 1990.
3. When under the influence of alcohol (all too regularly) he has been known to say he followed Bowie on the Japanese leg of the 1996 tour. This is nothing more than a gross exaggeration of hearing Crystal Japan being played as background music while on a seedy lunch date in a Cantonese restaurant in the Balsall Heath area of Birmingham.
4. While he purports to be an accomplished driver, he has never held a driving licence. In fact tomorrow marks his 17th attempt at attaining his cycling proficiency badge.
5. Don't listen to him when he tells you he is a keen follower of cricket and a member of the MCC. The sum total of his attendance at first class cricket matches is nine overs bowled at Bristol on a rain soaked afternoon a few years ago, where he spent the entire 40 minutes horizontal in the bar, paralysed by the effects of a moderate lunch time drink.
6. Talking of bars and paralysis, in Dublin in 1995, he had become so drunk by 11.45 am that Charly and myself had to physically drag him half a mile back to the hotel and put him to bed before we could resume the afternoon's drinking activities.
7. He states his nick is derived from the soccer team, Sheffield Wednesday, whose mascot is an owl. If Sheffield Wednesday's mascot was in any way representative of their accomplishments it would be at best an emu, at worst, another flightless bird such as the ostrich with its head buried firmly in the sand.
8. Not that he is a Sheffield Wednesday supporter at all. His typical Saturday afternoons are spent at home in Portishead (which he maintains is a suburb of Greater Manchester), eagerly tuned into the television to hear updates on progress with his favourite team, Manchester United. He is a well recognised soccer hooligan by NYPD. The real reason he did not go to the Carnegie Hall gig is his fear of arrest by the Police in New York following an ugly incident in a Manhattan Pizza outlet in the summer of last year following the England versus Germany soccer match.
9. Don't believe for a minute he is a competent, responsible professional, working for a leading bank in the UK. His lavish lifestyle is financed from the proceeds of his drug racketeering activities in St Pauls, Bristol.
10. His "wide, varied and cultured musical tastes" extend little further than Kylie Minogue, S-Club 7, Steps and St Winifred's School Choir. He is also Bruce Sprngsteen's biggest fan and believes that Level 42 are the best live performing band in history.
PROFILE:
Sex:
Haven't Looked!
Age:
32.
Birthday:
5th July.
Where do you live?
A nest near Bristol.
Email:
davetheowl@davidbowie.com
Your favourite David Bowie album?
Diamond Dogs.
Your favourite David Bowie song?
Queen Bitch.
Most embarrassing experience:
Difficult to say - fortunately the alcohol normally means I don't have a clear recollection of embarrassing moments. Probably the time I was back-packing round Europe, and went to sleep in an empty train carriage "not fully dressed" and woke up next morning to find the train was now packed, with most people stood staring at the way I was sprawled across 6 seats.
Most memorable experiences:
A choice of many travel related experiences - too difficult to choose just one. Seeing places like Syria, Petra, China, Japan, New York, the Grand Canyon, Vietnam and many more.
Got to mention a few great concerts as well - Bowie in New York 97 and Storytellers, Milan 99, Edinburgh 90, Cologne 91, Cardiff 95, Hiroshima 96, Spain 97, BBC show '00. Add to that Lou Reed '89 and '00 in particular, Placebo, U2, Springsteen to mention just a few and it becomes a fair old list!
Best Bowie gigs been to:
Too small a box!! See above - Milan, the Birthday Bash, Cologne, Cardiff , Zaragoza.
Favourite Bowie event you've been to?
For a total experience, I'd probably go for the 50th Birthday show in New York. First time in the States, a 6 day trip with Caligula "and many others" that probably involved less than 20 hours sleep in total. Did all the sights and came close to drinking in all the bars! All that capped with a cracking show, highlight for me being DB and Lou duetting on Queen Bitch, Waiting For The Man, Dirty Blvd and White Light!!
Favourite beverage?
Lager.
Favourite food?
Curry - or to be precise Chicken Dupiaza Balti.
Favourite sexual position?
Participating.
Name one thing that you completely hate?
Arsenal.
Describe David Bowie in one word?
Coolasfuck.
CLICK HERE
TO CLOSE WINDOW