DAVE M and LYNN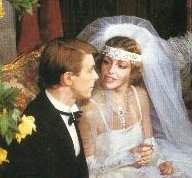 DaveM and Lynn
PROFILE:
Sex:
Both.
Age:
42 and 40.
Birthday:
22/09/58 and 24/04/60.
Where do you live?
Swindon, UK.
Email:
dlm@davidbowie.com
Your favourite David Bowie album?
Diamond Dogs.
Your favourite David Bowie song?
Too many to list.
Most embarrassing experience:
Too embarrased to say!
Most memorable experiences:
Our first meeting at school in 1974. Our first conversation was: Me to Lynn: "Do you like David Bowie?" and Lynn's reply "Like him! I absolutely love him!!" The rest they say is history!
Our most memorable experience was the birth of our son in 1994 after being told previously that we would be unable to have children.
Best Bowie gigs been to:
The first is always the best. Mine was Salisbury 1973. Lynn's was Wembley in 1976.
Favourite Bowie event you've been to?
All shows! Convention in Essen in 1990, Convention at Bedford - What has happened to Dave Priest?
Favourite beverage?
Carling for me, white wine for Lynn.
Favourite food?
Anything vegetarian for me, any meat for Lynn.
Favourite sexual position?
All.
Name one thing that you completely hate?
Being poor.
Describe David Bowie in one word?
Impossible.
CLICK HERE
TO CLOSE WINDOW