DEmerson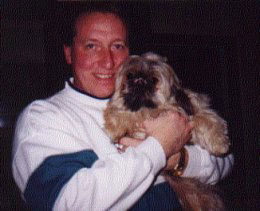 DEmerson - aka "DEm" aka "Sarky Bastid"
DEmerson is what might be called Old School Sarcasm. His approach is rather like some of the classic sarcasm masters like Eddie Izzard... except that DEm doesn't wear a dress. At least that we're aware of. Or should we say, we hope not. (We saw his legs last year in Central Park, and believe us when we tell you his gams are not for anything shorter than tea length at best).
Anyway, if you see DEm on the board, be sure to give him what we call AVHT (a very hard time). The more you dish, the more he can sling. And when this happens, the rest of us can all sit around and have a good laugh at your expense.
PROFILE:
Sex:
Beefcake.
Age:
Older than movies.
Birthday:
May 31st.
Where do you live?
Near Boston, MA.
Email:
demerson@davidbowie.com
Your favourite David Bowie album?
Station To Station.
Your favourite David Bowie song?
Rebel Rebel.
Most embarrassing experience:
There was a car, a girl and a cop on a farm road this one time...
Most memorable experiences:
There was a car, a girl and...
Best Bowie gigs been to:
Station To Station tour, Boston Garden, March 17th 1976.
Favourite Bowie event you've been to?
Well - I've seen him 24 times now since 1974 and they all are special in their own right. If I had to pick one "event" though I would say the whole Roseland weekend in NY last year was as fun a time as I can recall.
Favourite beverage?
Why - Peach Schnapple of course!
Favourite food?
Cheeseburger (said in Clash like voice).
Favourite sexual position?
Any.
Name one thing that you completely hate?
Being called "sarky bastid" by that Super Vixen.
Describe David Bowie in one word?
Artist.
CLICK HERE
TO CLOSE WINDOW