DUKE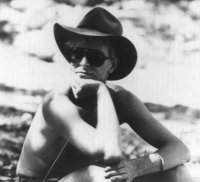 Duke - aka "Bushlander"
PROFILE:
Sex:
Alien.
Age:
Post-Industrial.
Birthday:
Yes.
Where do you live?
Dogg Town.
Email:
bushlander@usa.net
Your favourite David Bowie album?
Station To Station through Scary Monsters.
Your favourite David Bowie song?
"Heroes".
Most embarrassing experience:
You'd have to beat it out of me.
Most memorable experiences:
I can't recall.
Best Bowie gigs been to:
Hollywood Palladium, post-Outside, Universal Amphitheater, Earthling, second night.
Favourite Bowie event you've been to?
I once hosted a Halloween party, called it 'Scary Monsters' and played lots of Bowie music. Does that count?
Favourite beverage?
Daily: Coffee, special events: Rum and Coke.
Favourite food?
The half-chicken combo from Super Pollo in Costa Mesa.
Favourite sexual position?
Liberal.
Name one thing that you completely hate?
Hatred.
Describe David Bowie in one word?
Confusing.
CLICK HERE
TO CLOSE WINDOW