THE EARWIG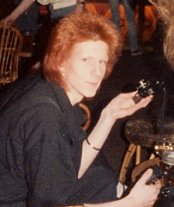 TheEarWig - aka "Bleedin' Know All"
The EarWig is the ultra secret-intelligence agent for BowieWonderworld. After being kicked out of the famous MI6 (otherwise known as the British Secret Service) for wearing foo-foo bunny slippers to work, he dedicated his talents to a much more worthwhile cause: gathering top secret Bowie information and disseminating it to all the peoples of BW.
No one really knows who DaWig is, but it is said that if you connect all the freckles on his arse it will read: "Property of Richard Branson."
We know he hails from Sarth London, apparently he's got friends in high places, way up on the 11th floor. He does the 'net... he does the street... and he's even got a pager. So he's well tooled up.
Puzzling indeed!
PROFILE:
Sex:
Boy.
Age:
22 add 11.
Birthday:
24th October.
Where do you live?
London, UK.
Email:
earwig@bowiewonderworld.com
Your favourite David Bowie album?
Scary Monsters.
Your favourite David Bowie song?
One? Cracked Actor.
Most embarrassing experience:
Trying to find a decent photograph of myself to submit for this!
Most memorable experiences:
Getting db signature at the signing.
Best Bowie gigs been to:
Astoria 1999.
Favourite Bowie event you've been to?
Book signing at Virgin Megastore before Astoria gig.
Favourite beverage?
LaBatts.
Favourite food?
Chinese.
Favourite sexual position?
On the stairs.
Name one thing that you completely hate?
College.
Describe David Bowie in one word?
God!
CLICK HERE
TO CLOSE WINDOW