EBAYER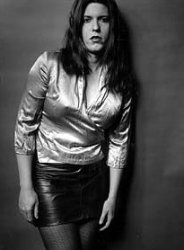 EBayer
PROFILE:
Sex:
Nymphomaniac. Don't snigger it's a serious condition.
Age:
Concern.
Birthday:
4th September, every year.
Where do you live?
In various night clubs and wine bars dotted around London.
Your favourite David Bowie album?
The Blow Up Doll one. (Never Let Me Down).
Your favourite David Bowie song?
Queen Bitch, Sorrow (yes I know but I just love the way he sings the piece).
Most embarrassing experience:
Being told I bare more than a passing resemblance to David Bowie circa 1971.
Most memorable experiences:
Undergoing SO surgery.
Meeting Jayne County and slapping that bitches face.
My first day on Ebay. I'm now completely addicted. The shit I buy on there you wouldn't believe!
Best Bowie gigs been to:
Docklands 1990 Sound and Vision tour.
Favourite Bowie event you've been to?
.
Favourite beverage?
Anything salty.
Favourite food?
I'm on a diet, anything less than 11cc fluid ounces.
Favourite sexual position?
Sex with me is an Event. Don't abuse the position.
Name one thing that you completely hate?
Premature ejaculation and bad hair days.
Describe David Bowie in one word?
Lickable.