GILLY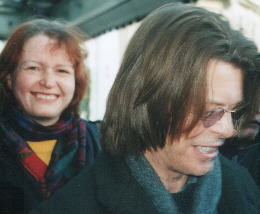 Gilly - aka "Queen of the Darkroom"
Gilly is one of the BowieWonderworld chief Bowie photographers. Ever since anyone can remember, it's been Gilly's wonderful concert shots that have amazed fans worldwide.
Apparently Gilly has a distant relative that is a kangaroo. Having a pouch in her stomach could be the only conceivable way she could so stealthily sneak large zoom lenses, tripods, and light metres in with her to every show… Unless, of course, she is using her feminine wiles on the roadies and security men, taunting them with her infamous red tresses.
PROFILE:
Sex:
Girl.
Age:
40.
Birthday:
February 18th, 1961.
Where do you live?
Essen, Germany.
Email:
gilly@bowiewonderworld.com
Your favourite David Bowie album?
1.Outside.
Your favourite David Bowie song?
I'm Deranged.
Most embarrassing experience:
You'd like to know that, don't you! (Ed. Yes please tell us)
Most memorable experiences:
Read my journals at:
www.davidbowie.com/users/gilly/
http://home.talkcity.com/MiracleMile/gillyx/gilly1.html
Best Bowie gigs been to:
See above.
Favourite Bowie event you've been to?
BBC 2000.
Favourite beverage?
Diet Coke.
Favourite food?
Mexican.
Favourite sexual position?
In the arms of Bowie!
Name one thing that you completely hate?
Violence.
Describe David Bowie in one word?
Life.
CLICK HERE
TO CLOSE WINDOW