GOTHIC BOWIE BELG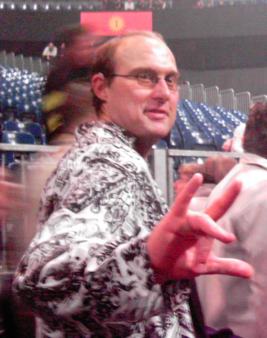 GothicBowieBelg - aka "Erik"
PROFILE:
Sex:
Male.
Age:
39.
Birthday:
8 June 1965.
Where do you live?
Belgium, Europe.
Email:

Your favourite David Bowie album?
Scary Monsters (Super Creeps), Reality, Heathen, and the whole Ziggy Stardust period (Aladdin Sane, Ziggy Stardust, Diamnond Dogs etc.
Your favourite David Bowie song?
Time, Ziggy Stardust, Never Get Old, Life on Mars, etc etc - There are so many songs, too much to make choices and he even make new great ones on the Reality album.
Most embarrassing experience:
Well in all those years there are so many embarrassing experiences, to name one I had been to a concert of a girls band ones, it's still at my list of 'seen concerts' sad but true lol hehe.
Most memorable experiences:
The first concert I ever saw of Bowie, the meeting with Bryan Ferry, seeing Roxy Music after 20 years live at the Rock Werchter festival, the chat-meeting with my 'soulmate' and internet-son and the marriage with my sweet wife, she is the most and only person why I still walk this earth.
Best Bowie gigs been to:
Glass Spider tournee, 1987, Werchter (Belgium).
Favourite Bowie event you've been to?
All concerts I have seen of Bowie were great, wonderful, magic.
Favourite beverage?
-
Favourite food?
-
Favourite sexual position?
69.
Name one thing that you completely hate?
Selfish people who say nice things to you but hurt you at you back.
Describe David Bowie in one word?
Kameleon.