HAJNALKA BERKES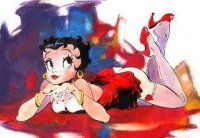 Hajnalka Berkes
PROFILE:
Sex:
Girl.
Age:
26.
Birthday:
November 13th 1974.
Where do you live?
Budapest, Hungary.
Email:
berkesh@ahrt.hu
Your favourite David Bowie album?
Never Let Me Down.
Your favourite David Bowie song?
1984.
Most embarrassing experience:
Haven't got any.
Most memorable experiences:
Discovering Bowie. The success of an important entrance examination - it is thanks to him that I passed it, as I told them I would like to learn secretarial studies there, because I WANTED to be DAVID BOWIE's secretary!
Best Bowie gigs been to:
Sound + Vision Show in Budapest, Hungary. A Tin Machine concert in Berlin, at the Neue Welt.
Favourite Bowie event you've been to?
The Bowie Birthday Party in 1991 at the First and Only One Hungarian David Bowie Fanclub in Budapest, I managed the Fanclub!
Favourite beverage?
Mineral water.
Favourite food?
Chinese food.
Favourite sexual position?
All.
Name one thing that you completely hate?
Lies.
Describe David Bowie in one word?
Bliss.
CLICK HERE
TO CLOSE WINDOW