JARETHINA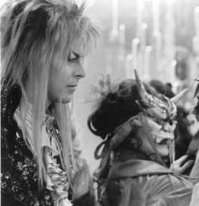 Jarethina - aka "Mrs Jareth"
PROFILE:
Sex:
Female.
Age:
Younger than Bowie.
Birthday:
Feburary 9th 1965.
Where do you live?
At the centre of the Labyrinth with Jareth.
Email:
jarethina@davidbowie.com
Your favourite David Bowie album?
Diamond Dogs.
Your favourite David Bowie song?
Let Me Sleep Beside You.
Most embarrassing experience:
When one of my x friends took a piss in the middle of the street at the County Fair. She is a girl.
Most memorable experiences:
Dreams I have had about David.
Best Bowie gigs been to:
Unfortunately, I haven't been to any. Wahhhhhhhhhhhh!!!!!!!!!!!!!!!!!!!!!!!
Favourite Bowie event you've been to?
There isn't one yet.
Favourite beverage?
Pepsi.
Favourite food?
Mexican food.
Favourite sexual position?
Doggie. Woof! Woof!
Name one thing that you completely hate?
Waiting for anything!
Describe David Bowie in one word?
Facinating!
CLICK HERE
TO CLOSE WINDOW