JAZMINE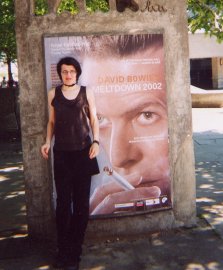 Jazmine - aka "Charley"
PROFILE:
Sex:
Alien.
Age:
21.
Birthday:
26th June 1981.
Where do you live?
Cambs, UK.
Email:
Jazmine@bowiewonderworld.com or maurice.doel@ntlworld.co.uk
Your favourite David Bowie album?
Earthling.
Your favourite David Bowie song?
Dead Man Walking.
Most embarrassing experience:
English lesson at school, when I wrote 'bout Bowie, this teacher asked if I were a Bowie fan, I said yeah - she gave me this book on him saying he's an absolute tosser, this was when I first got into him by the way.
My parents had a Rock 'n' Roll vinyl with Mott The Hoople's 'All The Young Dudes'. I looked at the credits which said "Written by D. Bowie" I used to think he was a member othe band. Then he released Earthling which made me realise he only wrote one song for them.
When I was 5, we had a Christmas do at primary and I had to sing 'Little Drummer Boy', I hated and refused to sing it, later I found out that it was Bowie. It still makes me cringe.
Most memorable experiences:
Seeing Jean Genie one year. Finding this site.
Best Bowie gigs been to:
None, though love to.
Favourite Bowie event you've been to?
-
Favourite beverage?
Tea by the gallon.
Favourite food?
Chicken, Cheese and Ham.
Favourite sexual position?
You're joking, right?
Name one thing that you completely hate?
Bullying.
Describe David Bowie in one word?
Mentor.
CLICK HERE
TO CLOSE WINDOW