JEANNE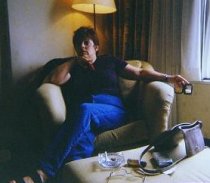 Jeanne
PROFILE:
Sex:
Female.
Age:
Must I?
Birthday:
31st March.
Where do you live?
Philadelphia, PA.
Email:
jnlg99@aol.com
Your favourite David Bowie album?
Aladdin Sane, Scary Monsters, Beeb.
Your favourite David Bowie song?
Jean Genie, Cracked Actor.
Most embarrassing experience:
Coming upon all the Bowie fans in New York, and not knowing what to say.
Most memorable experiences:
Kit Kat Club, amazing show.
Best Bowie gigs been to:
Kit Kat, Roseland and the Glass Spider seen oudoors, quite a fiasco.
Favourite Bowie event you've been to?
Kit Kat and Roseland.
Favourite beverage?
Red Red Wine.
Favourite food?
Hagaan-Daaz.
Favourite sexual position?
Being with someone who cares.
Name one thing that you completely hate?
Liver and creamed corn.
Describe David Bowie in one word?
My heart.
CLICK HERE
TO CLOSE WINDOW