KEITH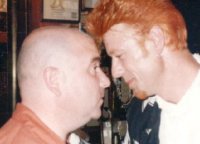 Keith - aka "Keef" aka "Slaphead"
PROFILE:
Sex:
Yes Please!
Age:
45-ish.
Birthday:
12th February.
Where do you live?
Surrey, England.
Email:
slaphead@compuserve.com
Your favourite David Bowie album?
Scary Monsters.
Your favourite David Bowie song?
Strangers When We Meet (that's today! something else tomorrow).
Most embarrassing experience:
Asking David for an autograph! the first time that I'd asked anyone for an autograph since I was about 12! I was 34 at the time.
Most memorable experiences:
Meeting David for the first time! in a little hotel in Usk after a Tin Machine gig. Then I asked for an autograph...
Best Bowie gigs been to:
1984 Serious Moonlight at Birmingham or 1973 Aladdin Sane at Southampton.
Favourite Bowie event you've been to?
The record signing in Oxford Street before the Astoria gig. I couldn't be bothered to queue up as I was told that I wouldn't stand a chance! so I went up and down the escalators conversing with people in the queue. Eventually I was thrown out by a copper who couldn't stop laughing when I told him what I was up to and we both left the store pissing ourselves.
Favourite beverage?
Alchohol... but only in moderation.
Favourite food?
All sorts.
Favourite sexual position?
Leaping off the wardrobe.
Name one thing that you completely hate?
Paedophiles! Although in a one to one therapy session I may be able to help them see the error of their ways.
Describe David Bowie in one word?
Bowie.
CLICK HERE
TO CLOSE WINDOW