KELMAR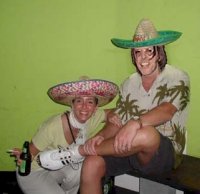 KelMar - aka "Kelly Marie" or "Vixen" or "666"
Finally, there is me. KelMarSuperVixen. I don't do anything around here, really, except document the kooks in this place and groove on the whole vibe.
If you wish to be included in this Hall of Fame (as it is a work in progress) please feel free to email me with a picture, your screen name, a detailed list of your superpowers and what you contribute to this board.
I'll be sure to make a nice silly entry for you here within these hallowed halls.
Email me @ kelmarsupervixen@hotmail.com
PROFILE:
Sex:
Don't mind if I do!
Age:
34.
Birthday:
02/01/67.
Where do you live?
Deep Creek Lake Maryland, aka the Bowels of Hell.
Email:
kelmarsupervixen@hotmail.com
Your favourite David Bowie album?
Outside.
Your favourite David Bowie song?
Look Back In Anger, Hallo Spaceboy, SMSC, The Motel, Sweet Thing/Candidate/Sweet Thing Reprise, Lady Grinning Soul.
Most embarrassing experience:
I was gonna go with when I fell off my chair during Serious Moonlight 'cos Bowie was looking at me and my dress went up over my head and everyone saw my knickers, but then there was the time in the mid-eighties were I was having sex when I was drunk and screaming "Sam, Sam." Only problem was, I wasn't with any Sam... Claudio, the guy I was shagging, was not pleased.
I embarrass myself so often that I can't keep track of the worst ones. But if I found out that Bowie did see my undies when I fell off my chair, I swear I'd die on the spot.
Most memorable experiences:
Finally meeting the BW peeps the day Sailor cancelled the Saturday Roseland show. I was so upset that there was no show, but I quickly got over it by drinking enormous amounts of beer and stealing plungers and such with everyone.
VIVA SOMBREROS BABY!
Best Bowie gigs been to:
Roseland Ballroom Gig, Wash DC NIN/Bowie, Hershey Park and Manassas '95.
Favourite Bowie event you've been to?
Roseland again.
Favourite beverage?
Veuve Cliquot - La Grande Dame or Krug - Grande Cuvee Champagne.
Favourite food?
Creme brulee ou oeufs a la niege.
Favourite sexual position?
All of the above.
Name one thing that you completely hate?
Sobriety.
Describe David Bowie in one word?
Transmogrification.
CLICK HERE
TO CLOSE WINDOW