KRISTIN MACHINA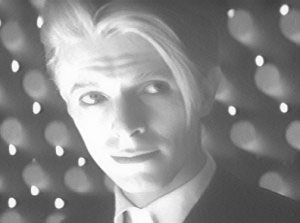 Kristin Machina
PROFILE:
Sex:
Female.
Age:
23.
Birthday:
3/16/78.
Where do you live?
New York.
Email:
kristin_mrsfrisby@hotmail.com
Your favourite David Bowie album?
Station To Station; Scary Monsters; Outside.
Your favourite David Bowie song?
Sweet Thing/Candidate.
Most embarrassing experience:
New Jersey - Six Flags Amusement Park - the karaoke booth - maybe it was the heat, maybe I'd been spinned upside down one too many times, but I was under the impression that I could sing. I also thought it was a good idea to let the engineers play my song over the speakers outside! Thus, I subjected dozens of innocent people to my Minnie Mouse/Betty Boop/Catwoman rendition of 'Sweet Child O' Mine!' The casualties have yet to be counted..
Most memorable experiences:
My first patient as a student nurse - a severely mentally retarded, schitzophrenic old man with a hip fracture. His only means of expression were lip-smacking, yelling and pinching. Kind of sad...
Best Bowie gigs been to:
First and only gig - Roseland, June 16th 2000.
Favourite Bowie event you've been to?
Roseland - First ever rock concert I've attended! Standing on line, chatting with some new people as we all waited to get inside. I was very surprised at how relatively young the audience was - most looked my age! Great show - absolutely amazing! Everything was perfect except this fat, sweaty, shirtless guy that waddled in front of me towards the end - eeewww... Otherwise, one of those "once-in-a-lifetime" moments!
Favourite beverage?
Apricot Sours.
Favourite food?
Campbells' Chicken Noodle Soup (Andy had exquisite taste!).
Favourite sexual position?
Um...
Name one thing that you completely hate?
School - Lord, get me out of here!!.
Describe David Bowie in one word?
Everyman .
CLICK HERE
TO CLOSE WINDOW