LILITH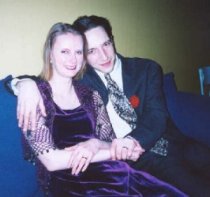 Lilith - aka "One Half of the Fairytale Romance"
Lilith is now famous for being a star in the first BNet love story. Having met her future husband (and fellow Bowie fan) Pepijn, they orchestrated the single greatest love story as yet seen on the net. And while Lilith's size may seem small, she is known for being able to consume twice her body weight in beer.
Lilith and Pep are now the tag team love-birds of BW and we all wish them the best and happiest of futures! But we suspect they don't need luck, after all they never argue over what kind of music to play on long trips in the car!
PROFILE:
Sex:
Yes please!
Age:
Almost 29+1.
Birthday:
March 15th.
Where do you live?
Oslo, Norway.
Email:
helen@design.no
Your favourite David Bowie album?
Diamond Dogs and Scary Monsters - impossible to chose between them .
Your favourite David Bowie song?
Sweet Thing, Candidate, Sweet Thing Reprise.
Most embarrassing experience:
While on a language holiday in Brighton in '87, I spotted a guy wearing a Bowie t-shirt. Without thinking I whistled after him (the t-shirt) and his girlfriend ran over to me and slapped me in the face... No chance to even explain lol
Most memorable experiences:
Discovering Bowie, sex, reading The Lord Of The Rings for the first time, getting married.
Best Bowie gigs been to:
Without doubt the Roseland gigs last year.
Favourite Bowie event you've been to?
Without doubt the Roseland gigs last year.
Favourite beverage?
Beer, Coca-Cola.
Favourite food?
Chicken of all kinds.
Favourite sexual position?
lol
Name one thing that you completely hate?
Racism.
Describe David Bowie in one word?
Sublime.
CLICK HERE
TO CLOSE WINDOW